Slow and Steady Wins the Race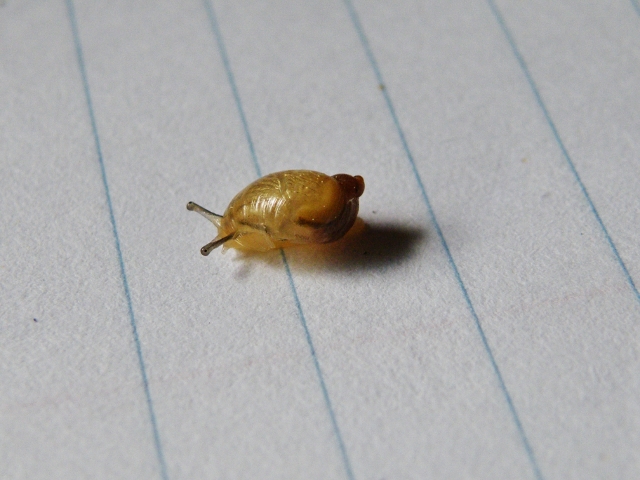 Saco, Maine
June 21, 2017 2:29pm CST
Not that this little snail was racing anyone or anything...it was simply intent on getting to where it was going. I first noticed it when it fell off a miniature wooden birdhouse that I'd painted and put outside last year. I was in the process of cleaning the house up to repaint it, and this little guy (or gal) fell out onto the table. At first, I didn't think it was alive. But within seconds, the shell moved and two tiny antennae popped out of one end. I was amazed at how fast this little thing moved considering its size. It didn't take long at all for it to reach the edge of the looseleaf paper it was on, so I turned it around in order to be able to get a few photos of it. It's back outside where it belongs now, but not before I was reminded of how perseverant these little creatures are and how determined, even if it is to just get from point A to point B! (Photo is Mine)
6 responses

• Boise, Idaho
22 Jun
I think that they have the right idea. Slow and steady. No time rules. What a life.

• Saco, Maine
22 Jun
Yup, walking around and eating. They don't have to worry about shelter, as they wear it!

• Boise, Idaho
22 Jun
@Raelove
......Sort of cute little guys.


• Saco, Maine
22 Jun
I love all nature's creatures and find them all quite fascinating. This one was way too tiny to be threatening.

• Ponce De Leon, Florida
21 Jun
That's a really great picture!

• Saco, Maine
22 Jun
Thanks, April. I finally figured out how to use the close-up function on my "new" camera. But that's another story I'm about to write.

• Hong Kong
21 Jun
That snails really knows it's direction in life!



• Los Angeles, California
21 Jun
Slow and steady often wins the race.

• Saco, Maine
22 Jun
Yes it does, and you're not as pooped when you get to the finish line either!