How to cook fried egg with Bitter Melon?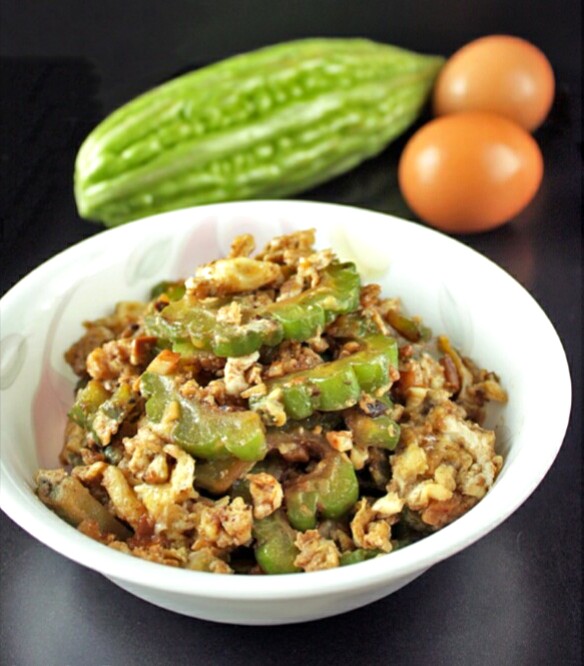 June 23, 2017 11:32pm CST
Is Saturday, I am going to cook a very simple yet tasty Asian food : Fried egg with bitter gourd [ Bitter melon ] in just 20 minutes. Today's my favorite recipes are as follows: 250 grams of Bitter Gourd / Bitter Melon Two eggs One spoon of Oyster or Soy sauce A few sliced minced garlic Two spoons of edible cooking oil One spoon of salt Step by step of cooking: 1-Water is boiling, add 1 teaspoon of salt, the right amount of edible oil, pour 250 grams of bitter gourd or Bitter melon ( cut into small slice and please take away seeds ) after boiling out, drain spare. 2- Eggs, stir and drizzle the egg evenly , heating oil in the frying pan and let make some scrambled eggs. 3- Heating up the cooking oil, put a little dry red chili (optional), and then fry with a little minced garlic for approximately half a minute, then add in the Bitter Melon strips to stir fry and cover the pan for nearly 2 to 3 minutes until it turn soft and semitransparent. 4 - Finally poured scrambled eggs, add some water to stir fry with salt, oyster sauce or soy sauce, blend well and prepared it to be served. Let enjoy your simple yet delicacy Asian food on this Saturday.
2 responses


•
24 Jun 17
@Shavkat
Put the sliced bitter gourd in a boiled water , add some salt and let soak it for about 5-10 minutes. It will take away the bitterness of Bitter Melon.



•
24 Jun 17
@Elisa1234
Thank you for the feedback and a little surprise compliment from you.




•
25 Jun 17
@Tracy04
Thank you for the feedback. Wow, it is something very different method of cooking bitter melon. Mind asking, how does it taste or cook without garlic?


• Malaysia
25 Jun 17
@TibetanCulture
You're welcome! Oh, yeah can add garlic if you want to. Me I add oil, chopped onions, bitter melon, stir fry and eat



You can try garlic too! Onions and garlics are good for your health!