Another Favorite Movie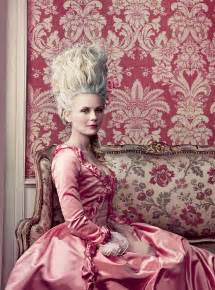 Toccoa, Georgia
June 27, 2017 9:24pm CST
This movie is in my top 5 of favorite movies. It is the 2006 version of Marie Antoinette written and directed by Sophia Coppola. Lots of the filming is at Versailles where she lived as Princess and Queen. The rich visuals of this production is superb in my opinion. Kirstin Dunst does an excellent job portraying Marie Antoinette. The story follows the book that I have read "Marie Antoinette, An Intimate History" by Melanie Clegg. But, one thing the book goes into that the movie doesn't, is how at the end, before she was beheaded by the guillotine, she was SO BADLY Mistreated by the people in her jail (as were her husband and family). It grieved me to read about it. My husband has said to me (and he even told my sister and brother in law),, how obsessed I am with Marie Antoinette. And I will be honest, I am obsessed with her. I have read many books about her. I have read books about people around her, like her ladies in waiting, her hair stylist, her perfumer and her supposed lover Count Fersen . I find the whole time frame leading up to the French Revolution fascinating. But, I am very upset what she went through and how she died. She suffered tremendously in her last days. I know there were very poor people in France in those days who had it real rough and turned against her and the King because of their excess wealth, but, they still didn't need to be treat so badly in their later days before their execution. I just wish their planned escape that was headed by Count Fersen, had succeeded. I got the photo from Bing Search Engine.
4 responses

• United States
28 Jun 17
Sounds like a fascinating movie. I don't know much about Marie Antoinette but you certainly caught my interest with your recap.

• Toccoa, Georgia
28 Jun 17
That is good. When you get a chance you really should see this version.


• Toccoa, Georgia
28 Jun 17
Back in the 80s, after I graduated from High School, my sister and I and a group of girls went for two weeks with our HS French teacher to France. We saw Versailles and it is beautiful. I also saw Marie Antoinette's small farm house Le Petit Trianon. I am very happy I got to see it since I am a big fan of her and that portion of History.

• Switzerland
29 Jun 17
@LeaPea2417
I have really loved all the years I lived in France, it's a beautiful country.

• Los Angeles, California
28 Jun 17
Marie Antoinette was very badly received at the time. Booed at its Cannes Festival premiere even. I like Kirsten Dunst so its okay with me.

• Toccoa, Georgia
28 Jun 17
The screen play really did follow most of the book I mentioned above which was historical. That is sad it was booed. I like Kirsten Dunst too.