memories from my youth & times gone by...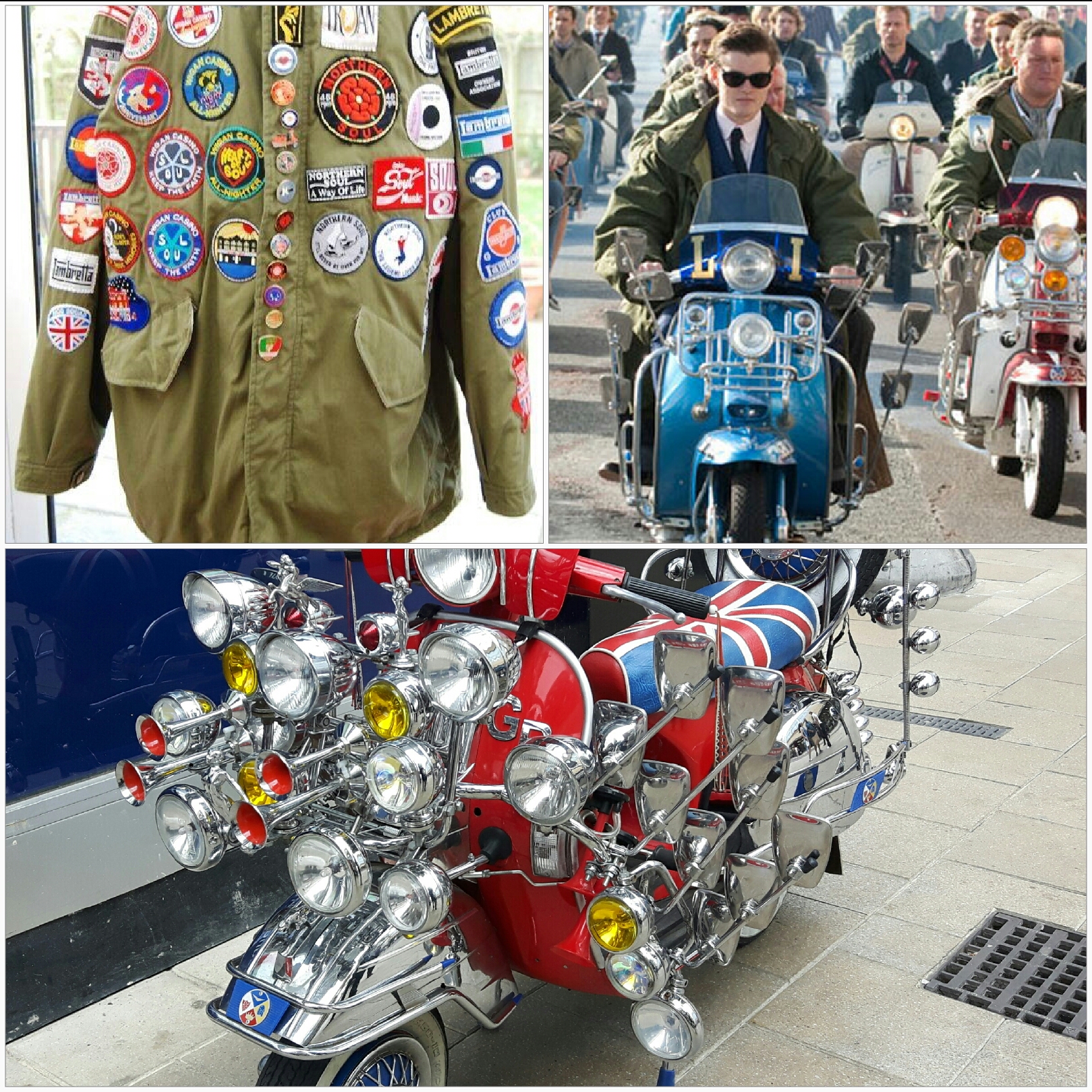 Alicante, Spain
June 28, 2017 9:29am CST
While in the uk recently,  I was walking round the town centre, and I heard the sound of a motor scooter engine, and saw the scooter above, in the post photo..   It was all decked out in mirrors and horns and lights... it was done in the style of a mods scooter from the 60's  Have you heard of Mods and rockers.. for good description click on the link below... but basically they were two rival youth cultures from the 60's the "mods"  ... rode scooters like the one depicted above,  and dressed very smartly and wore parker jackets... and some were a bit vain, about their hair, their clothes and of course their ride.. (the scooter). They also listened to a certain type of music, like Ska, Jazz and Motown, as well as  R&B, american and  British R&B bands, bands like the Kinks, the Animals, and probably the most famous of all.. The Who... they were  all a big part of the mods music scene. while rockers on the other hand ..rode bigger, noisier, motorbikes.. Rockers generally favored 1950s rock and roll, mostly by artists like Elvis Presley, Eddie Cochran .. and later hendrix and the stones and many more.. they dressed in jeans , leathers and boots, and had a totally different style to the mods... There was quite often trouble,  when the rival groups met at various places, and some of it quite violent... I think both culture groups have been swallowed up by the passage of time ... and,  or, morphed into other cultures... especially the mods... but there is still quite a rockers following.. sometimes called cafe racers these days ... and not to be confused with hells angels... a totallydifferent culture...  https://en.m.wikipedia.org/wiki/Mod_(subculture)#/editor/0 I went out with a mod once... one evening when we were out..  all he could talk about was his new shirt, and that it  had glass buttons... yaawwwnnnn  ... needless to say that didn't last very long... lol

but it reminded me of a time gone by...
9 responses


• United States
28 Jun 17
thanks fer the glimpse back'n history :) once 'pon a time, i 'twas married to a biker 'n nobody seemed to care 'bout their attire nor their hair, lol. gigglin' o'er that fella'n his obsession with his shirt. interestin' 't times what sparks those memories, eh?

• Alicante, Spain
29 Jun 17
Thats sssooo true...
@crazyhorseladycx
sometimes just the littlest thing can open a flood gate of memories.... and then another time you want to remember something... and you just can't bring it to mind....



.... glad you like it... and that young man made me laugh...i'm sure it took him longer to get ready for our date than it did me ... lol

big hugs my friend..


• United States
29 Jun 17
@sueznewz2

i bet't did take him longer! some fella's 're more vain than any gal'd e'er dream 'f bein', eh? i know what'cha mean 'bout recallin' schtuff. i'm gett purty horrid 'bout that these days myself. big hugs 'n love!


• Alicante, Spain
29 Jun 17

I bet you were too busy with horses...


• United States
28 Jun 17
That is interesting that those who rode those motor scooters were divided into two groups. Sorry your time spent with a Mod was short-lived.

• Alicante, Spain
29 Jun 17
that's ok... he liked himself and his bike too much I think... lol...


• United States
30 Jun 17
I've never heard of Mods and Rockers


• Alicante, Spain
1 Jul 17
no ... well it may have bern just a UK thing...



• Alicante, Spain
29 Jun 17
that's right
@DianneN
my Dad was non too pleased either lol... but it didn't last long anyway...lol...


• Green Bay, Wisconsin
28 Jun 17
It's hard to grow up in the era I did and not hear or be part of the bike crowd. We call them bikers here. They don't ride scooters but Harley Davidson motorcycles for the most part. Huge and noisy. I went out with a Hells Angel once. I wasn't impressed with the lifestyle. You have some great pictures. I've never seen a scooter or motorcycle with as many lights on it.

• Alicante, Spain
29 Jun 17
I'm glad you like the photos... val
@just4him
that was typical of their style...


• Ponce De Leon, Florida
28 Jun 17
Mods sound very similar to modern day hipsters.

• Alicante, Spain
29 Jun 17
I 'm not sure the hipsters would agree with you... april
@thislittlepennyearns
lol.... but there are not many mods around these days... just a few club members that go to ralleys and shows ect...


• United States
8 Jul 17
I think we had lots of rockers but motor scooters were never big where I grew up.