Annoying & Overused "Phrases"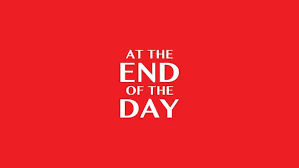 June 28, 2017 4:03pm CST
Here are two popular phrases I hear over and over to the point it has become annoying to my ears! 1. We are having a "robust" debate/discussion. On whatever topic it happens to be. 2. "At the End of the Day." My personal irritating favorite. Have you ever noticed this frequent usage in the English language? When I watch TV these phrases seem to be used by politicians, political commentators, and with the second one, you can add pro athletes and celebrities. Sometimes this phrase is actually used twice within the same comment. Is this phrasing the new sophisticated way to end a statement or sensationalize an adjective? Is this the new phrase for "you know." For me its become a joke and the phrase has lost both meaning and effectiveness.

What do you think is the reasoning behind the new phrasing?
10 responses


•
28 Jun
Yes, heard that one many times too! And yes, at the end of the day they should...oops


• Germany
28 Jun
@dgobucks226
what is annoying is that when a certain person you talk to keep on saying, "you know " to start a sentence. I already name that person You Know.


•
28 Jun
@thelme55
Very clever!

I see where your going with this...


• Los Angeles, California
28 Jun
...and just one more thing....

• Hong Kong
28 Jun
There was a "robust" debate "at the end of the day".

Do you have any phrases in mind that we could use in place of these "annoying & overused" phrases?


•
28 Jun
TRUST ME- and just one more thing to your ROBUST statement... uh, right, you know, per say, with all due respect ... whew, how's that


• Hong Kong
28 Jun
@dgobucks226
Yes...there's a litany of those words!



•
28 Jun
Definitely!

I know who you're referring to in politics and he should rethink that phrase. Since most are not trustworthy



•
28 Jun
That phrase seems to be used everywhere on TV. An annoying way to finish off a sentence!


• Johannesburg, South Africa
30 Jun
Got to love, "I don't mean to be rude" and then dun dah dun, the person goes on to be rude. I have had colleagues that loved to use that
@dgobucks226
and reporters and politicians love it too.

•
30 Jun
I noticed the phrase used by TV anchors too, right before they interrupt the person their interviewing. Agree completely!

• Johannesburg, South Africa
30 Jun

• United States
4 Jul
I've noticed phrasing trends coming and going for some years. I think it's because we're all so interconnected. An unconnected group of people hear a phrase, repeat it on social media, it gets picked up by sportscasters, tv meteorologists, news commentators, and before you can say "it is what it is" (my personal irritating favorite), you're hearing it all over the place. Sometimes, as you mention, more than once within the same comment. I don't see any reasoning behind these catch-phrases. They are similar to ear worms; I try to block them out, usually unsuccessfully.

•
4 Jul
Everything you said was "spot on," excellent commentary and you didn't say "at the end of the day"



•
29 Jun
As opposed to "Don't get my right." Yes that is an annoying phrase!!!

• United States
29 Jun
Starting to hear the at the end of the day from even just regular people, especially some in the Nursing and Doctor profession. It really makes me wonder why this is the norm now and the new answer for everything.

•
29 Jun
Yes, I saw an online poll which said "At the End of the Day" was rated the most annoying phrase used today.

• Colorado Springs, Colorado
29 Jun

•
29 Jun
Like that one too

... And so it goes