Sugar Baby

Hilo, Hawaii
June 29, 2017 5:54am CST
Recently, I have done large amounts of research in order to determine the easiest and simplest way to earn money without really doing much work. I browsed through ads about making money by taking large amounts of surveys, getting a real job (haha I know, but taking summer classes conflicts with a lot of schedules I would have been willing to work with), and even investing. Of course, I was scared about investing my money into something invisible that would take years to actually grow a large amount of income. There were too many "what if's" for me to consider putting a lot of money and time into. I then came across a website that listed several 'seeking arrangement' websites that provided a new source of possible income. So, before I decided to join any of the suggested sites, I researched more about what 'sugar babies' and 'sugar daddies' are. The term "sugar baby" might not be as familiar to the majority of people. Surprisingly though, there are millions of sugar babies all across the United States alone. The majority of them are college students who was to continue their education despite their growing debt. Being a sugar baby (SB), male or female, means that you are willing to give your time, emotions, and -in some cases- body in order to please or make their "sugar daddy" (SD) happy. The goals of various SB's can range from simply wanting small gifts from time to time versus expecting an allowance every month. These difference all depend on the type of lifestyle that both the SD and SB lead; a SD that has a more lavish lifestyle will tend to be more willing to spend larger amounts of money on their SB (or SB's). So here I am now, starting something new to see if it will lead me to new experiences and possibly help me pay for my education. I'll be sure to post regularly about what my experiences are like! Let me know what you think, if you've ever been a SB or SD, or just your opinion on the matter. Thanks for reading! ~spoiled34
6 responses


• Hilo, Hawaii
30 Jun 17
@HeartBM
So far I have been happy, but then again I only have a limited amount of experience. I am curious as to what your experience, as you stated, has been! :) Thanks for reading my first discussion by the way!

• Philippines
30 Jun 17
@spoiled34
well in my high school days until my early college day i was in a band. Had may suitors back then who showers me with material things. At first it was exciting but then later i felt like drowning. I felt then that no man takes me seriously anymore, even when i was studying in college. The perception they have with you is very hard to change. As a human being, we have the need to feel real love, but in that situation, i receive none. We can't just feed our mind and our body, we also need to feed our hearts and our souls. If it starve, you will breakdown

• Hilo, Hawaii
30 Jun 17
@HeartBM
Thanks for telling me more about your experiences! Since you first began receiving gifts and more attention from your many suitors until you felt like you were drowning, what were your favorite and least favorite moments? How had being in those experiences or relationships affected where you are currently? In terms of socially, romantically, or if it even affected your education as well.

• United States
29 Jun 17
What it boils down to is 'buying'. I'm not gonna say it's wrong...it's your life, after all...but myself, I wouldn't pay for affection/companionship.

• Hilo, Hawaii
29 Jun 17
@JolietJake
, thank you for your opinion. I know that it isn't really what everyone would choose to do but I just want to inform more people about it.

• United States
29 Jun 17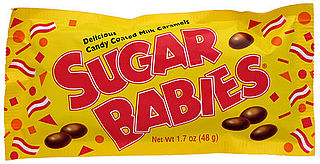 @spoiled34
I did used to like the candy Sugar Babies so I guess I have paid for it before


• Hilo, Hawaii
30 Jun 17


• United States
29 Jun 17
Probably not...you know what they say, different strokes for different folks.

• Jacksonville, Florida
29 Jun 17
I could never do that and be able to sleep at night but I wish you the best of luck with whatever you decide to do.