How Can Anyone Be Surprised by Trump?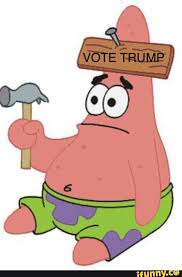 Kingston, Jamaica
June 29, 2017 4:00pm CST
Another slimey Tweet. Another proof that POTUS is on bar with the rum shop drunk shouting at the guy who won't buy him a drink. From day one, he's a guy who couldn't sit at my dinner table. That Americans voted for him, and got him,warts and all, is very amusing to those of us in the rest of the world who absolutely don't want him visiting our country.
4 responses


• United States
29 Jun 17
Come on, I know you love ol' Donny but are just afraid to admit it.


• United States
29 Jun 17
@JolietJake
I feel like all my FB is these days is anti-Trump stuff. That and gym posts.

• United States
29 Jun 17
@NJChicaa
Bull. I saw you talking about 'my Orange Man' earlier...admit it, His Royal Orangishness has won you over.



• United States
29 Jun 17
Donny is a GREAT man and with his fine leadership America will become GREAT again whether it wants to or not.


• United States
29 Jun 17
@tallawah
Yes, Earth will BECOME America, and America AND Earth will BOTH be GREAT again!

I'm sure it must be so, I read it on the Internet.


• Canada
29 Jun 17
He can't help it. He behaves like a 5 year old, tantrums and all. I agree, the rest of the world is laughing

• United States
19 Jul 17
Unbelievable, isn't it? If I lived in another country I wouldn't want him visiting my country either, I sure WISH he wasn't HERE! I've absolutely given up on trying to keep track of his many scandals and likely crimes and ethics violations. Just a few hours ago it was revealed he'd had a SECOND meeting during the G20 Summit with Vladimir Putin, one that hadn't previously been disclosed and one which there's no way for any of us to ever know what was said since it was just Donald, Putin and Putin's interpreter. This on top of the news we've been hearing for over a week now about Don Jr.'s emails and meeting in which there was obvious collusion with Russia during the campaign. I think we'll eventually learn Americans did NOT "legitimately" elect him. I just hope it's not too late.

• Kingston, Jamaica
19 Jul 17
When he claimed to have 3x more people at his inauguration than Barack Obama, despite the photographs... I knew 2 + 2 = 5 in this 1984 we are living in. He is a liar of the first order. He has done absolutely nothing at all whatsoever save humiliate the American people. All of his stupid idea... for example... blocking people who were born in Somalia... like ooh, Mo Farro...the Gold medalist, and kissing the toes of the Saudis who gave you 9/11. He's a repulsive creature and Putin is playing him like a piccolo. How could anyone go into a discussion and use that person's translator? No one would do that... but Trump did.