Do You Carry Excess Baggages?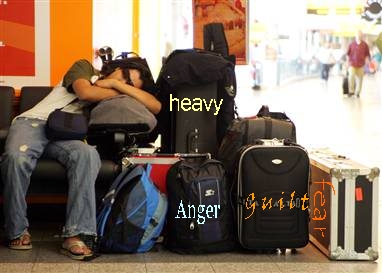 Hong Kong
July 3, 2017 12:45pm CST
There's a weight limit or weight allowance when we check in our baggages in the airport right? And if we exceeded the weight limit and you still want to carry it then for sure there will be an additional payment or cost if you really want to right? But I'm not talking about the literal excess baggages in the airport---but I'm talking about the psychological or emotional or any other kind of personal baggages that we are carrying, still carrying and may still carry as we go on with our life... As we grow through life, carrrying too many excess baggages of fear, hate, guilt, grudges, ill-will, pain, revenge, bitterness, etc. and other psycological scars is not good, not wise and even self-destructive in the long run... These excess baggages in life are not good in our pursuit of happiness, sense of well-being, sense of security, contentment, peace of mind and heart etc... Just like in the airport if we want to carry excess baggages for the remaining period of our life then there will be price to pay or additional cost... Are you carrying right now any excess baggages in your life? Do you want to carry that excess baggages for the rest of your life until your dying days? As for me I'm slowly removing any excess baggages in my life...I don't want to pay any additional cost...all I wanna do is to be happy in life...

6 responses

• Walnut Creek, California
3 Jul 17
How do you go about removing excess baggage? And do you think some carry baggage they're not aware of? Or are in denial of? I have some things I can think of that make me angry (see my post from two days ago), times I've been wronged, etc. But I try not to let those things affect my day-to-day interactions too much.

• India
4 Jul 17
I will go about checking that one. I think it is difficult not to carry excess baggage if the person has hurt without any reason. I am perverted enough to feel happy when something bad happens to them, forgetting that bad things happen to everybody including me. lol. But I feel without some wrongs done to us or done by us, we might not reflect upon situations and that is what actually makes life colorful. Otherwise it could be as bland as nun's habit. Only love cannot make a person survive, or love and work too. Emotions are what fills empty spaces in life ..time you get to think while bathing brushing going to loo waiting for milk to boil blah blah. lol. The more we try to control them no this is bad, this is not right etc, the more stronger they become and return with vengeance. But it is possible to find replacement for them with happy fun filled thoughts or motivated stuff. That is what I try to do.

• India
4 Jul 17
@TheHorse
.. Yeah..if the situation ends, it is definitely time to move on. But if the situation is latent, it is time to prepare for calamity like commandos. If it is there in the background surfacing periodically, I guess I prefer to bounce it on number of people and look for satisfactory answers, and in the meanwhile grapple with it as best as I can. Ignoring the problem does not solve it in many cases. At times, it increases the audacity of the person behaving like that. So no, ignoring it would not be satisfactory answer for me. I won't start a problem for sure.

• United States
3 Jul 17
I don't carry nearly as much as I used to. It's so self destructive to hold a grudge or hate someone. It hurts no one but you. I've spent the past ten years getting rid of such things and as a result I'm much happier and so is everyone around me.

• Hong Kong
3 Jul 17
@dragon54u
You are right my friend the bottom line is always our self who gets hurt or benifited as the case maybe in the end.



• India
3 Jul 17
No, I try to reduce baggages as much as I can. I can't really manage lot of baggages

• Hong Kong
3 Jul 17
@prashnu
You are right and it really makes a practical sense to do so right?



• Hong Kong
4 Jul 17
That's a very healthy and positive way of seeing through it my friend.


• Mangalore, India
3 Jul 17
Plenty of excess baggage that I would love to discard but for some reason unable to do so. I guess that is what life is all about, coming to terms with our strengths and weaknesses and more importantly our limitations . With all that life is still very beautiful !

• Hong Kong
3 Jul 17
@kiran8
I agree 100% with you that life is still beautiful!


•
21 Jan
Yes, I carry excess baggage and it is very hard to forget the past and lift it off of your back. Do you have excess baggage?