Wash rags or toilet paper..

United States
July 4, 2017 1:53am CST
I am watching videos on youtube. I am letting them run one after the other so it's now on one for those who want to recycle toilet cloths. I saw that on tv a while ago. I could only hope that my money issues never get that bad. I could see it in a pinch for sure. Provided I had my washer still. I don't think for now this would be something for me.But looking at the savings I would love that extra money. This one here has a different set for each family memeber. I like that she did that.
6 responses

• Boise, Idaho
4 Jul 17
Toilet cloths? What if someone used the wrong one?

• United States
4 Jul 17
I was watching a video and each member of the family had about 60 or more of their own cloths in the basket. Each person picked out their own fabric and mom made the cloths. for guests, they have a roll of tissue. I thought sure I would be grossed out. But she has a can with lid for the rags. she washes a load of rags and folds them. I saw a family use them and drop them in a wet bucket now that is gross. I know I spend a lot of money on wet wipes I could sure use a savings. I have my own bathroom and so does kay. But of course, I would never tell her to use rags. She does not buy any goods for the house. so she will start if I stop.

• Boise, Idaho
5 Jul 17

• United States
6 Jul 17
@celticeagle
I am going to stick to what I do too. I use wipes and scott and a wash cloth too. I hope to figure out savings soon. I buy too many wipes. I share with kay and she does not buy them. So,I might change that soon. I see too much spending for household stuff out my budget.


• Hong Kong
4 Jul 17
You are right my friend for those savings which mean an extra money.


• United States
4 Jul 17
I was thinking of that extra savings adding up.

• Pittsburgh, Pennsylvania
8 Jul 17
That is iffy for me. I don;t know about the smell involved though I like the idea of saving money as basically I am cheap unless it is reading material. I would have to watch this video.

• United States
8 Jul 17
I think there would be no smell if you use the washing bag some use. But if you put liquid cleaner in a bucket with a top there is not smell at all. The rags will be filled with cleaner.

• Pittsburgh, Pennsylvania
8 Jul 17
@sharon6345
oh, i better look for the video you watched as I am a little confused on this subject!

• United States
8 Jul 17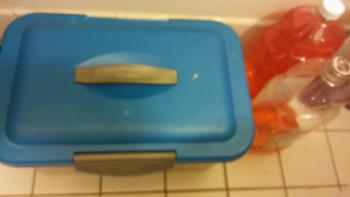 @Marty1
There are so many to watch. One lady has about 60 clothes on top of her toilet. One pattern for each member of the family. She has a bucket with a top on it filled with liquid by the toilet. she tosses the entire can in the washer. Most others have a washable bag by the toilet. fill it with rags and wash the bag and the rags. I have no idea if you know about the buckets with the top on it that have a handle I can't describe it. But let's see if you can see the image. then I will continue.


• United States
8 Jul 17
I have to let that one pass by me. Save on something else.

• United States
8 Jul 17
That is good I am trying to save on other stuff too.

• United States
8 Jul 17

• United States
8 Jul 17
@popciclecold
That is what I cut down first then trying to lower costs.


• Roseburg, Oregon
4 Jul 17
That just seems so gross to me.




• United States
4 Jul 17
I would not want that to smell up my unit. But I am watching a video and she has done a good job for her home.

• Hyderabad, India
4 Jul 17
I do not have any idea of saving on toilet clothes. Is it good to save on them?