Got the Thundershirt on my cat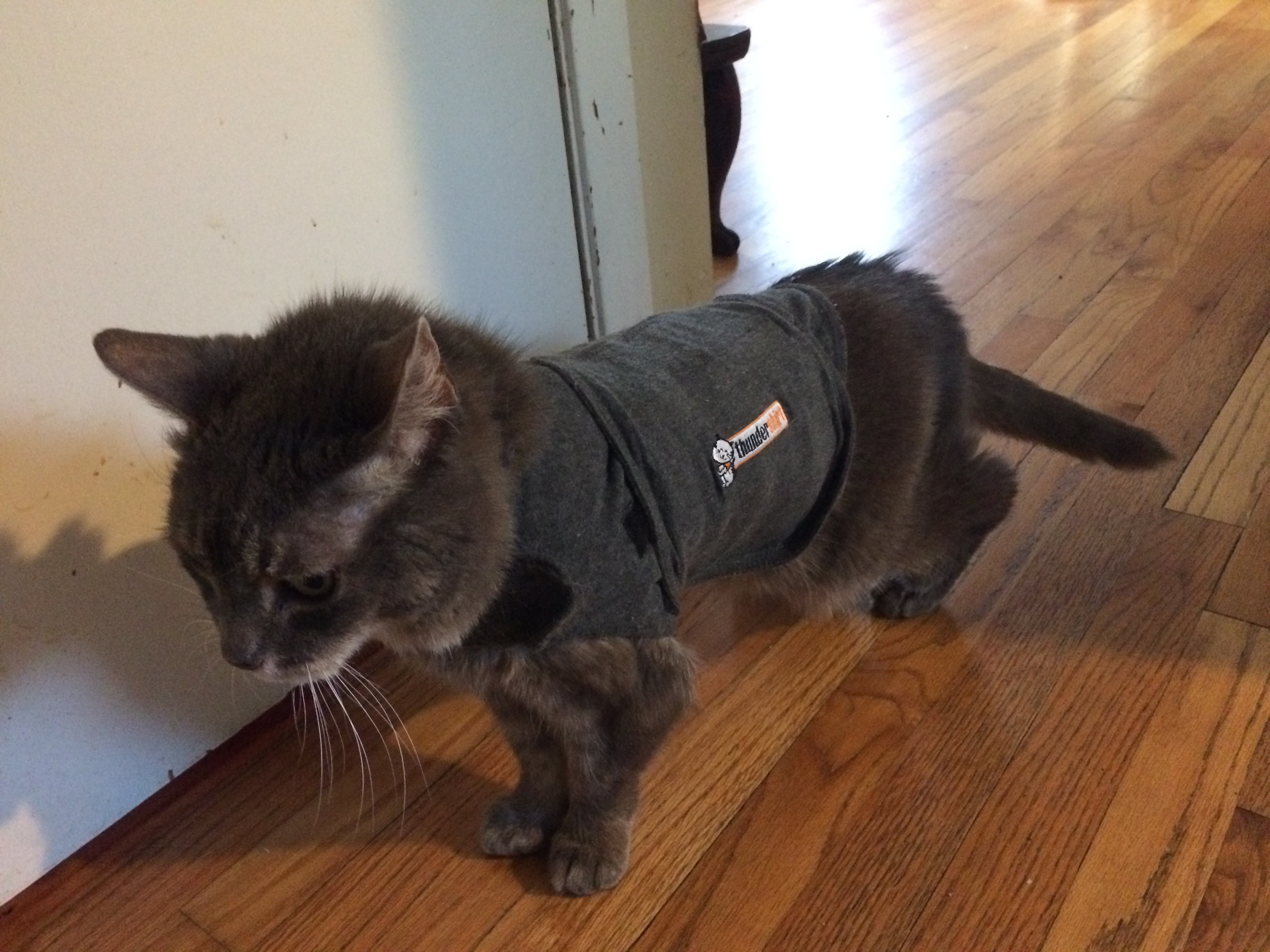 United States
July 4, 2017 6:47pm CST
My old man cat is petrified of thunderstorms and fireworks. He freaks out, hides in a closet, and just shakes and drools the whole time the event is going on and even for an hour or so afterward. I decided to buy him a Thundershirt a couple of years ago to try to help to keep him calm. It is a wrap that you put snugly around your cat (or dog) that applies pressure which is supposed to have a calming effect on your pet. I don't know if it actually helps him, but I figure that it certainly can't hurt. If it helps, even a little bit, then it is worth it. Problem is, now that it is on, he knows that something is up and he is pacing around the house. I will put him in my bedroom under the comforter in a little bit as it gets closer to dark. That's when the town fireworks start and, after that, when the neighbors will start their illegal displays.
10 responses

• United States
4 Jul 17
Oh poor kitty..yeah that may just help him Chicaa. I hope so. I have heard of those. Yes it will be loud here in a few too.


• United States
5 Jul 17
@NJChicaa
Oh the poor parrot too..it does scare him but he laughs about it too?

• United States
5 Jul 17
@TiarasOceanView
I don't think she is scared. She doesn't really get scared by anything except the vacuum.

• United States
5 Jul 17
@NJChicaa
Good she isn't scared then.



• Garden Grove, California
5 Jul 17
I feel so sorry for pet dogs and cats as the freworks get moisy and go on an on with the illegal ones they shoot off

• United States
5 Jul 17
So far he is hanging in there. The town fireworks have started but they are on the other side of town so you can barely hear them over the AC window units running. Once they stop, though, the neighbors will start and that's when he will flip out.

• Los Angeles, California
5 Jul 17
Your cat is now a fashion plate.

• United States
5 Jul 17
Never heard od those for pets. I know they make the heavy blankets for humans to calm them..

• United States
5 Jul 17
I've been using it with my old man cat for the past 2 years. I really don't know if it helps him because he is still very upset. But I hope that he is maybe a little bit less upset. Then we put him under blankets so he feels safe.

• United States
5 Jul 17

• United States
5 Jul 17

• United States
5 Jul 17
A very good idea this time of year with all the fireworks. They had a story on the news about making sure your pets are secure while the fireworks are going off. Another thing that I read about that hasn't gotten as much press, and that's veterans who have PTSD don't react well to fireworks. And, unfortunately, unlike Fluffy or Fido, there are no "thunder shirts" to help them. Hope you and your cat make it through.


• United States
5 Jul 17
@NJChicaa
-- that's the word that everyone seems to ignore.
ILLEGAL.
It's like immigration: people aren't against immigration, they're against
ILLEGAL
immigration. I like fireworks, but the ones outside that sound like a howitzer are ILLEGAL and should NOT be rattling the pictures off my walls.

• United States
5 Jul 17
@FourWalls
well apparently my redneck neighbors (and I DON'T live in the south) think that I should just accept their lawbreaking because "we're celebrating". F that!

• Defuniak Springs, Florida
5 Jul 17
We haveheard some, but not too bad, not as bad as we would if we were in the city.

•
4 Jul 17
They are badly disturbed by such noises. Our dogs just can't take the fireworks.