Thrill Seeking?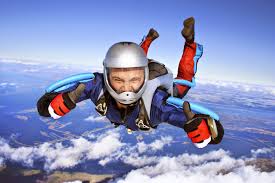 Virginia Beach, Virginia
July 6, 2017 11:04am CST
Thrill seeking has certainly changed definition since I was a kid. It's unbelievably amazing what folks do to "get a rush" today. Our "thrill seeking" was much simpler and not nearly as dangerous. We thought the old "burning bag full of dog poop on a strangers porch" was exciting enough. That one took a lot of skill. It took perfect coordination to light the paper bag, ring the doorbell, and then skedaddle into their shrubbery to watch. The most difficult part was to not laugh when the resident opened the door and attempted to stomp out the fire. That could have gotten my brothers and I killed. Nevertheless, it was exciting. Today's thrill seekers have taken it to vastly more extreme levels. They do things that freeze my blood just to watch. Have you ever bungee jumped? Not me. I have seen YouTube videos showing the cord snapping instead of recoiling. Some have been killed like that when they hit the ground. If I ever wanted to do that I would insist on one modification. I would want to use a chain. Even though a co-worker once invited me, sky-diving doesn't appeal to me either. Memories of previous motorcycle accidents helped me to quickly decide against it. In those cases, I only fell a foot or two to the ground, which turned out to be quite painful. I'm sure falling a few thousand feet would hurt a lot worse. Still, sky-diving seems to be at the top of everybody's "bucket list". I watched an elderly woman lose her teeth at 9,000 feet. And then there was a blind guy who wanted to experience the sensation of falling through the sky at 80 miles an hour. To me that would be terrifying. Not this man he was absolutely ecstatic all the way down until he discovery a personal tragedy on the ground. That was when he realized that his seeing-eye dog had suffered a heart attack and died.
6 responses

• Lenox, Georgia
6 Jul 17
My life is full of enough thrills without even trying anything. Not interested in excitement-I would love peace and calm for once!

• Anniston, Alabama
6 Jul 17
Poor dog! LOL poor blind Guy. I am a thrill seeker. Each day I get on the interstate is thrilling, waiting for some a hole to pass me

even the ones in uniform in souped up Dodges. No sky diving for me either.

• Virginia Beach, Virginia
6 Jul 17
Blame it on Educational TV
@andriaperry
We had a whole generation learn to drive by watching "The Dukes of Hazard".

• United States
6 Jul 17
Some people are very brave and reckless even. At least to me it seems reckless. The most daring thing I have ever done was a very high jump not exactly bungee jumping but it was in a girls camp that the staff at the home I was in had taken us too..it was a lot of survival skill training..I was only 16 and had no fear.


• United States
6 Jul 17
lol I have no desire to throw myself off of a high bridge attached to a rubber band. lol