Dreams

United States
10 responses

•
7 Jul 17
I believe dreams have a role in our life.

• United States
8 Jul 17
Thanks, Xavier, however, I would like to go a little more in detail about how they fit in. For instance, if you dream of flying high with no restraints can mean that nothing can stop you from achieving your goals. On the other hand, if you fly low and touch the ground occasionally, this could mean that something is holding you back from achieving your goals.


• Australia
3 Aug 17
@leeannhargrave
That seems to me a good observation. I often fly low, and do not seem to be able to fly higher. Sometimes, I am in a building though, and just fly up to the roof level and hover around there. At other times, I hover a few inches off from the ground, as I move along a busy street. I do not want people to see that I am flying, so I glide along like this, and avoid wet grass, puddles, and mud etc, by my doing so.

• Hong Kong
8 Jul 17
@leeannhargrave
There are so many theories about dreams. One of the classic book about dream is "The Interpretation of Dreams" by Sigmund Freud. They say that our life is divided between the waking time and the sleeping/dreaming period. I'm not sure about the current state of research on human dreams.


• Hong Kong
8 Jul 17
@Sambriel
No problem my friend.


•
8 Jul 17
@mandala100
cheers to the greater. Life ahead.



• United States
8 Jul 17
I used to think that my dreams were significant and meant something or other, but now I do not believe that. There may be some sub conciseness in them to where we try to work out our problems or whatever is bothering us, but that is about all that I in fact do believe. However, it is fun to surmise what they may mean and to know of other superstitions about them.

• United States
8 Jul 17
I think we work out problems in our dreams. Whether it be things holding us back or just silly dreams that resemble the real world. Who knows but it is fun to dream!


• United States
8 Jul 17
@leeannhargrave
It surely was fun ..unfortunately my dreams are nightmares.

• United States
8 Jul 17
@TiarasOceanView
I can relate. When I was in school, I had a re-occurring dream that my father was chasing me and my niece. I think it was because I felt persecuted because I was female. It seemed like my father was always on my case and I believe that is what caused the dream.




• Philippines
8 Jul 17
I don't interpret my dreams. Though, I have dreams of similar nature. Its always that I am late already to a party or an event that when I arrive the guests were already gone. I think that is because sometimes I am late indeed in attending events. ha ha ha Maybe it is telling me that I should reform my being late. ha ha ha


• Philippines
8 Jul 17
There are ongoing research on sleep and lucid dreaming. But I don't place much value on books on dream interpretations that are generalize.. I believe dreams are individual and more personalize. I do believe that sometimes we can work out problems in our dreams. The trouble is remembering the solution when we wake up.


• United States
31 Aug 17
A lot of times our dreams can help to predict and show us where we are needing to go. It can be an awakening to what God is trying to show us.

• Australia
3 Aug 17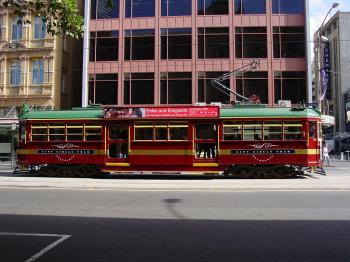 I was dreaming that I was on an old Melbourne tram, sitting in the middle drop saloon area, on the wooden bench near the open door. A boy, of about ten, was sitting on the wooden bench opposite me, also near the door. The tram stopped suddenly, abruptly, at some traffic lights. My green thong fell off my foot, and it fell out of the door. The tram must have bumped it off when it stopped, like that. The boy's smaller blue thong also fell off his foot, and out of the door too. I jumped off the tram while it was stopped, and I looked underneath it for our thongs. I saw his blue one and retrieved it. I also saw a yellow one and a pink one which I also picked up. The yellow one was dirty with particles of mud sticking to it. I could not readily see my own green thong, but then I noticed it sticking out from a deep puddle of water on the track, further back along it, but still under the tram. Walking down the length of the tram a bit, I tried to reach under the tram to get it, but I couldn't do so. It was a long way under, towards the middle of the tram. Then, I also suddenly realised how dangerous this was, what I was doing here, especially if the tram took off again, while I was reaching underneath of it. I left my thong there then, and I got back on the tram, just as it took off again. The tram represents a way, or the way of my journey in this life with others on it too. The sudden stop shows me that often I will feel green and lose my way, not so much altogether, but more just my footing. When I jump off my true life path into an escape route, I can see that it can be more dangerous for me to do this, as life might indeed then run me right over. It is far better for me to let that part of my life go for now, and keep living it as it is, until my current journey completes itself. I should continue to help others though, as this dream shows me, that I was able to retrieve other's thongs, but not my own. This was because my green thong was deeply submerged under water, which shows me that when I get too deep into "footing" away from my true life path, I might become "drowned" by my doing this, instead of gaining anything worthwhile, for myself, by my sticking to my path. This is true, as I often let life overwhelm me in this "drowning" sort of a way. I need to let life take me to where I am really going to. I should not try to climb underneath it to check my footing, even if I think that I have lost it for now. Yes then, I do think that our dreams are trying to tell us something about the way that we are currently living our lives. Picture Credit: This picture of the tram here is taken from the free media site, Wikimedia Commons. By No machine-readable author provided. Dysprosia~commonswiki assumed (based on copyright claims). - No machine-readable source provided. Own work assumed (based on copyright claims)., BSD, https://commons.wikimedia.org/w/index.php?curid=556835