Signs From Above: Book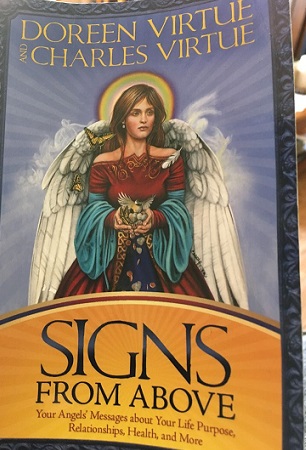 Orangeville, Ontario
July 11, 2017 12:52pm CST
This is not a book review because I didn't read the whole book, and I don't have it with me to refer to. I was at my in-laws' this past weekend and saw this book sitting on a table so I picked it up and read the first 20 pages. I'm considering looking to purchase it. What I did read was more impactful than I thought it would be. The book is about messages from angels and the different methods in which they send messages whether it be through flickering lights, televisions, butterflies, birds, other animals, etc. I personally have received signs from flickering lights and a television that would go on by itself in the wee hours of the morning. The little section I read was about messages from angels sent through clouds - testimonials from people who saw angels and even an image of a deceased parent formed in the clouds. You all know how you can look up at the clouds and see images and formations in them. Well, did you ever think they were messages? As we were driving to the airport on Sunday I gazed out the window up at the clouds. The very first image I saw was a formation of 3 clouds that came together into the shape of an airplane. Since we travel standby, we don't necessarily know if we are going to get onto a flight. When I saw that plane I knew for sure we would make it on the flight... and we did. Shortly after that I saw an image of a racing rabbit. Close behind it was another cloud which to me looked like a turtle. The rabbit cloud didn't appear to be moving but the turtle cloud did. Eventually the turtle image broke apart. When we arrived in Toronto, we were greeted by my daughter who was just finishing her shift at the airport. So we had two vehicles at the airport. My daughters drove home in one, my husband and I in the other. We followed our daughter but found us taking turns passing each other. I felt like it was the tortoise chasing the hare. Really weird. It rained part of the way and all I could think about was that turtle breaking apart. I was concerned someone would be in an accident. Fortunately, we were not. So, I recommend you keep an eye on the clouds, and perhaps keep an eye out for this little pocket book. I'm going to be looking for it.
3 responses

• United States
11 Jul 17
Sounds a good read. Yes we can see many signs in nature all around. I am glad that turtle cloud was not the sign of an accident.

• Ringgold, Virginia
13 Jul 17
I haven't read this book, but I have read similar Doreen Virtue books about angels and fairies. It's amazing how we can receive signs at any time and place, and from any object.

• Orangeville, Ontario
14 Jul 17
@dramagirl26
Sometimes I have a hard time deciphering what are signs. But those clouds were real.

• Ringgold, Virginia
16 Jul 17
@patgalca
It can be hard deciphering signs if we're not paying attention, but angels can send them in any way possible.

• United States
11 Jul 17
I would be very interested in the book you mentioned here. I have had many signs that my mother who passed away in 2014 has given me a helping hand or has stopped by to check on me many times. Most often, due to Mom, things which are lost are suddenly found.