Race Assimilation

United States
July 14, 2017 1:47am CST
I have noticed this especially by people who are from the hood....white women who are involved with a man different from her own race have a tendency to assimilate to the race of her boyfriend. For example, if she is ihvolved with a Mexican man, she will call him Pappi. She will listen to his music. If she is with a man who is ghetto, she talks ghetto. I am not saying there are not exceptions. Surely, there are, but I see this a lot.
6 responses

•
14 Jul 17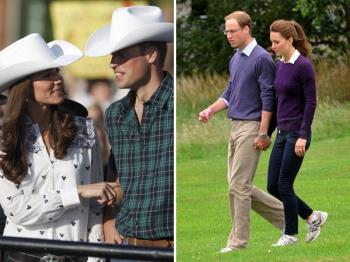 It's called adapting. And people tend to appreciate whom they have a lot more liking to. And they tend to dress like them - not always, talk like them - most of the times, and behave like them - happens now and then. It's their way of letting themselves getting a hold of people they have a connection to. As they say, like wills to like. They tend to minimize their differences and get a little closer than they are. And they are welcomed and accepted in turn by the people of said interest.


• United States
16 Jul 17
That makes a lot of sense, but when you see Prince Wills and his wife dressed like this, it because they are going to an event where it is appropriate to dress that way. However, when you see a white woman dressed like she is from the hood, talking with an accent she does not naturally have, and talking with a hood vive because her boyfriend is from there, it is a bit different and awkward.

•
17 Jul 17
@MsBooklover
I have a slightly different opinion from yours. The differences are not that great as they are seen to be. If a person thinks that accepting something of a community or people, like their accent, clothing or food habits, will ensure that they are welcomed and appreciated then there's nothing wrong in that. If the two of them don't mind, we shouldn't mind as well. That's what I think.

• United States
22 Jul 17
@shikharava
If a woman has a new man every six months, and she goes from talking like she is from the hood to talking like she is Mexican....and everyone knows she is not either one.....it appears like she is not being herself.


• Hong Kong
14 Jul 17
@MsBooklover
Maybe that's an interesting phenomenon to study my friend.


• United States
14 Jul 17
I think it is. From what I see, it looks like she wants to belong to that group and feel a part of it...and protected by it. I had read that one of the reason individuals join gangs is because it gives that sense of belonging.

•
14 Jul 17

• United States
16 Jul 17


• Canada
16 Jul 17
They love their man and are willing to learn their language and ways to please them.

• United States
16 Jul 17
I did not mean learning a language. What I mean is they emulate the man's culture. For example, white women will act black by talking with a accent they never had before. They will have their hair done like a black woman might, etc. If their man is from the hood, they will act like it even though they were not raised that way.

• United States
14 Jul 17
I keep my own identity, besides, I don't fit in with anyone.


• United States
16 Jul 17
I prefer to keep my own identity, too. LOL....

• United States
16 Jul 17
@MsBooklover
I know


• United States
20 Jul 17
Many times it is because that is how the Men are taught to have their women behave? I have seen people who get involved with a Mexican man per say, and in order for it to work the man is in control. The woman has to do everything they say in order to keep it working. So for some it could be a Control issue to where the woman cannot act any other way.

• United States
22 Jul 17
That is possible. It does not sound like a healthy relationship.

• Green Bay, Wisconsin
16 Jul 17

• United States
16 Jul 17
I am glad it is not just me who sees this.