My trains to Lourdes and back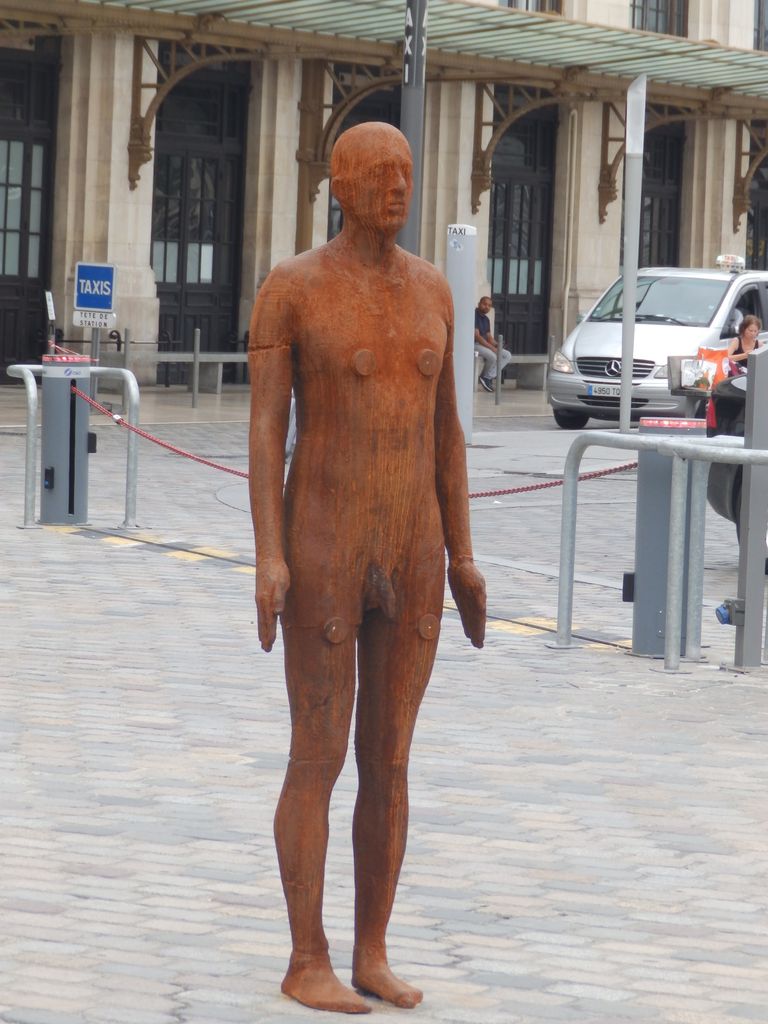 Hamburg, Germany
July 14, 2017 6:29am CST
I was needing to take two trains to go to Lourdes from my place. The travel started quite bad, on Tuesday 11th at 6 am. The first train was a very old train, about 20 years old, that had not been cleaned this day and had faded and dirty blue velvet seats. It was the only train that was not a high speed train and also the most expensive of the four I took during my trip, probably because it was arriving in Bordeaux at rush time. I will never understand how is fixed the price of a train ticket in France anyway

. I wanted to go to the toilets before the arrival and found an «out of order» sign and a closed door in my wagon. I went to the next wagon and, guess what ? Yes, «out of order» again

! I had never seen something like this before, this train was completely rotten

! I was not far from Bordeaux, and came back to my seat to be near my luggage. I had to wait an hour at Bordeaux where I found this intrigating bronze statue of a naked traveler in the courtyard of the railway station. I took my phone and did my homework. This statue is from the famous British artist Antony Gormley. There are 16 of these statues exhibited in public places in Bordeaux from June 25th to October 25th 2017. The model is the sculptor himself, and it seems that they come from the same mould used for «Another Place», an artwork of 100 bronze statues facing the sea, permanently located at Crosby Beach, Merseyside, England, in 1997. Times to times Gormley exhibits his naked body in other places, and the statues which are today in Bordeaux were in London in 2007, in Rio de Janeiro in 2012 and in Hong Kong in 2015. The next train was «L'Océane», a brand new high speed train covering the 567 km between Paris and Bordeaux in 2h 4mn since July 2d with a dash speed of 320 km/h. Only prestigious trains are given a name in France, and this one was deserving a name : free wifi, USB plug and power outlet for every seat, more space than in the previous generation of high speed train, and a large information video screen in 4 languages where I learned that I could even order a meal in the restaurant wagon with my phone ! What I was ignoring is that this «Ocean line» was continuing its travel after Bordeaux and was going to the Pyrenees mountains. Maybe is it only during summer holidays ? My seat was in a upper deck with a herd of quiet South-Koreans tourists. I really enjoyed the travel... and the toilets were opened and cleaned

. For the travel back on Wednesday, I was also at the upper deck of a train and alone until Pau where a slim woman about my age carrying a lot of luggage came with a ticket for the place next to mine

. She put on her shelf a comics magazine, the last pocket edition of the book of Pdt Macron and a bag of cashews. She opened the bag, offered me some cashews and started to chat. I realized quickly that she was a lot more cultured than what I had assumed at the view of the comics magazine. As she was referring often to a cultural radio channel, I thougt that she was a teacher or a college professor. She was funny, we sympathized and as we were taking the same train at Bordeaux, we decided to go to the restaurant wagon and to have a drink to continue the travel together, because our seats were not in the same wagon. She told me there that she was a liberal psychiatrist and was 64. I was giving her a lot less than that, but I avoided to tell her "You're such in good shape.



" She is traveling from Paris to Pau where lives her mother every Sunday, comes back to Paris on Wednesday, and works from Thursday to Saturday. I asked her why she was not retiring, and she told me that she could not, she was liking so much college that she spent 17 years in colleges and as an intern in public hospitals before managing to get her psychiatrist diploma. I had met bad medical students before, but never at this level, and smart like she is, she certainly did it willingly

. Thanks to her, I did not noticed the time spent for the travel back

. Those who were expecting something about Lourdes in this post, will be satisfied by my next post, about healing and miracles in Lourdes.
8 responses

• United States
14 Jul 17
I thought they were supposed to clean the trains daily? What a statue, not sure they would allow that in most places over here!

• Hamburg, Germany
14 Jul 17
They are supposed to clean them during the night, but they forgot this one

. I took a train between 2 cities during years every morning and it was rare when it had not been cleaned. This one was really dirty and very expensive compared to the luxury of "L'Océane" that I took in Bordeaux. A statue is just a statue, and it is not bad to put some contemporary art in the streets.


• Pamplona, Spain
14 Jul 17
Interesting Statue that quite like it. But not the idea of the first train being in that state and so early in the morning also. Good to see that you found a nice Train and great company for you too. All in all sound very nice to me.




• Hamburg, Germany
14 Jul 17
The first train excepted, all the other trains were in good conditions, and the second one exceptional : I had never seen a train with a fast free wifi. It was a time or data limited wifi though, but after 10 mn I had used only 3% of my credit

. I was pleased to do the travel back with this woman, it is rare when I find somebody interesting in a train. The weather was cloudy the two days, but I did not experienced the rain planned by the forecast on Wednesday and I can tell I did a nice trip

.

• Pamplona, Spain
14 Jul 17
@topffer
At least the second train was better and the nice lady you made you company too. Here is was supposed to be this that and the other with the weather and they did not get that right either. So seeing as it did not rain for you either you sound very happy with that trip.




• Hamburg, Germany
14 Jul 17
@lovinangelsinstead21
The clouds were very low Wednesday, I would have liked to have a bit of sun on the pictures, but it was probably better to have no sun at all. I wanted to go to see the Bastille Day fireworks tonight, but it has been canceled today

.


• Bunbury, Australia
15 Jul 17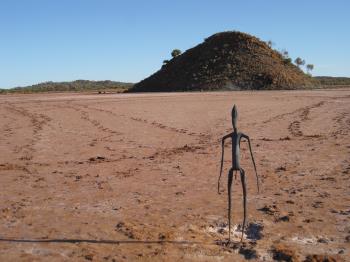 Antony Gormley has a series of sculptures on a remote salt lake, Lake Ballard, out of Menzies in West Australia. I thought I'd written about him but it must have been on Bubblews. A number of human figures are dotted about the lake.

• Bunbury, Australia
17 Jul 17
@topffer
I can't find any mention of it here so it must have been Bubblews. I might edit it and put it up here.


•
14 Jul 17
- Odd statue at first glance, but I did check wiki. As for 'an attempt to materialize the place at the other side of appearance where we all live', I guess Sir Antony Gormley did manage to do just that. Interesting thought! (His assistant/wife helped him doing those moulds from his body, with love!

) - Odd that France still has old trains in bad condition like that. (I tend to idealize everything, so a bit shocked whenever I heard/read differently.) - Did you manage to exchange email address/phone number with the attractive psychologist? I was so sure you would tell us of a great romance in the making... and almost held my breath, awaiting for the announcement.

- Glad to hear that you got back safe and sound.


• Hamburg, Germany
14 Jul 17
I read that they put these statues on pavements, squares and paths in public gardens. The idea is interesting. It is probably not the best one for a photo, but I was there only for an hour. It is the worst train that I ever saw. I do not care about the age, there are perhaps still a few high speed trains of the 80's, but they are clean and cleaned. This one was really dirty. I was pleased to meet somebody interesting to spend the time of the travel, but I do not even know her first name

.

•
14 Jul 17
@topffer
A pity! Didn't she give you enough info to search for her name (just out of curiosity)? Funny, don't French people introduce names to each other right on the first few sentences? People I have met so far are 99% fast as lightning in giving me their first names, and I have no choice then but to give them mine. Wish I could keep a poker face and give them some fake names instead for a lark (say, duchess, countess etc

).

• Hamburg, Germany
15 Jul 17
@YrNemo
We introduce ourselves to take an appointment or at the beginning of a meeting when everybody does not know everybody, but not or rarely when we speak to a stranger met in a public place. I could have asked when I got down the train, but I did not, just wished her a happy end for her trip to Paris and said see you maybe another time, but it has low chances to happen.


• United States
17 Jul 17
Meeting a nice companion on a trip is always a pleasure and does make the time pass quickly.

• Roseburg, Oregon
16 Jul 17
The train should have been cleaned.

• United States
14 Jul 17
That's terrible train service with no toilets opened. What if you needed to go badly?

• Hamburg, Germany
14 Jul 17
Maybe there was one opened in a wagon, but I did not wanted to inspect all the train to find opened toilets

. I remember to have seen in the 1970's wagons of the 1920's still in service, and they were in better condition than these ones. It is the worst train I ever saw.