Thanks to an inspiring post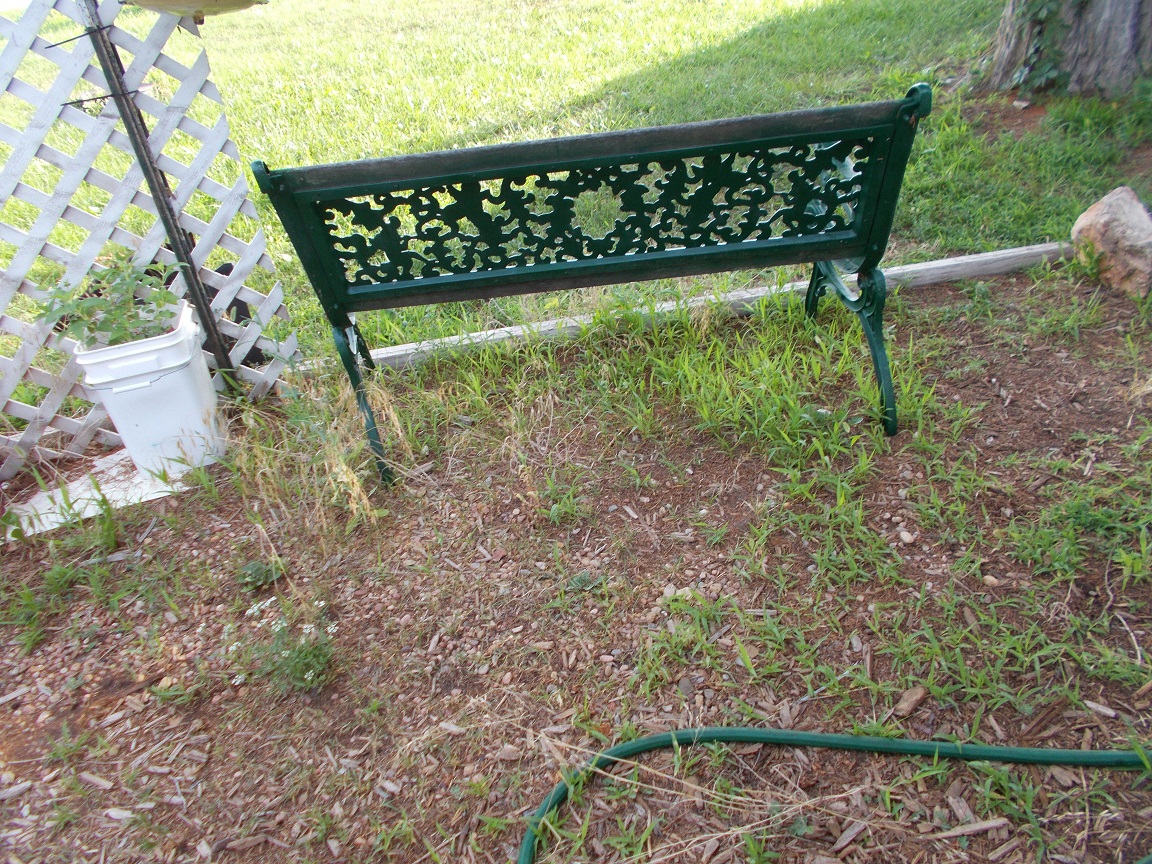 Marion, Kansas
July 15, 2017 3:49pm CST
I have not felt like writing anything yet today. However thanks to an "inspiring" post by @TheHorse I am posting now. Here is his link http://www.mylot.com/post/3086537/what-do-you-do-when-youre-too-busy-to-write-a-thoughtful-post-on We were up at 5 without the alarm, even though it is Saturday. So we went to breakfast and to pick up a few items at Wal Mart. Hubby is charging the air conditioning in the car I drive. I got some vitamins and some curtain rods. That came after we ate at Jimmy's Egg. Since we have been home hubby has put the new seat boards in this bench, as well. He helped me do some shelf rearranging last night and I have been organizing in the kitchen.

It feels really good. We have picked a recipe for supper. Since breakfast was huge we only ate ate little sponge cakes topped with frozen berries and fresh yogurt. We are having hamburgers tonight. So this is how I post if I cannot come up with anything really thoughtful. I have had no more wild animals in my yard. It is only about 93 F here, that is comfortable for us. I have spent some time reading posts and such on here and will do some more as the day goes by.
10 responses

• Jacksonville, Florida
15 Jul
It sounds like a busy but a good day. =) 93 is hot to me! Lol. I think I am melting here.


• Marion, Kansas
16 Jul
I think our humidity was down. Also, with all the greenery and less pavement it feels cooler.

• Chile
15 Jul
The bench is beautiful, Gertie. I´d love to have such a beauty in my garden.

• Marion, Kansas
16 Jul
It belonged to my sister but she did not want it at the apartments. The iron on it is good, the wood was not well maintained. I am hoping to sand the wood really well on the back, and hubby put new oak planks on the seat. It will be nice. I love to look out at how the sunset colors the clouds across the fields. It is facing north.

• Boise, Idaho
16 Jul
Temps about the same here. Both breakfast and dinner sounds good.

• Marion, Kansas
16 Jul
This is about the hottest I can handle comfortably. I actually thought we might get more rain.

• Boise, Idaho
16 Jul
@GardenGerty
......Same here. I could handle it a lot better if it rained occasionally.

• Marion, Kansas
26 Jul
@celticeagle
We had rain, and then dry, then tomorrow is hot, then maybe rain on Thursday. I hope so. Tomorrow is supposed to be the hottest day so far.



• Marion, Kansas
16 Jul
We changed plans and went to Sonic for chicken strips, we wanted to drive the van and make sure the air conditioning was working. However the hamburger is thawed and we will have that tonight.

• United States
16 Jul
@GardenGerty
oh. Never been to sonic. Not one close enough. Maybe one day. Enjoy the burgers tonight then

• Moses Lake, Washington
15 Jul
That's great that
@the
horse helped you out. You've been busy. I am a fan of benches. We have three on the property but I'm considering asking my hubby to make another. They're so handy to sit on when I need a rest from pulling weeds.

• Marion, Kansas
16 Jul
We have a porch swing, and two sets of lawn chairs in addition to this bench. They are a handy place to enjoy shade and cool breezes.

• Moses Lake, Washington
16 Jul
@GardenGerty
Porch swings are wonderful, too. Last night hubby and I sat on our deck swing and read together a little just as dark was coming on. Peaceful.

• United States
15 Jul
I love that bench and now it has a new seat on it..wonderful!! Wish I was sitting there..


• Marion, Kansas
16 Jul
We could have a glass of iced tea.

• United States
16 Jul
@GardenGerty
We could thanks Heather



• Marion, Kansas
26 Jul
This time of year I am spending lots of time running with family. Trying to get things done, trying to take them places or even just chat on the phone. I am not posting very much at all.

• United States
15 Jul
I felt horrible this morning, I called a tenant and left msg. and went back to bed, a couple hours later he called and I was refreshed and ready to go... go collect rent!

• Marion, Kansas
16 Jul
Today I feel a little "puffy", probably because we changed our plans and ate at Sonic, lots of fried foods. I wake up with headaches often. It will get better, though, I am sure of it.

• United States
15 Jul
Well, a fine post it is!! Those thoughtful posts sometimes turn out to be not as good as a non-thoughtful one.

• Marion, Kansas
16 Jul
Honestly most of mine are non thoughtful.

•
15 Jul
Good luck


• Marion, Kansas
16 Jul