What is the real meaning to be "sorry" for something you do wrong?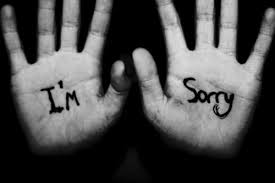 Petropolis, Brazil
July 16, 2017 11:49am CST
I am writing a text (in Portuguese) and the title is "Perversity Indulgence or the Art of Being Sorry" [free translation of mine] and the point is how "banal" or "trivial" it is to say "I'm sorry" when doing something bad to another person. I thought about this subject to post on my blog because, for me, this is really difficult to see the world as it is now. And I am not only talking about the big problems like wars and terrorism, I am giving more attention to the problems that happen on a daily life, like crossing the streets and being not respected when you are using the zebra crossing right and someone just run you over, or when you feel really angry because something really dull happens and someone loses the temper and shoot the other with a gun. I am getting really scared of how the world is turning near our homes and when I woke up today I wanted to write something about it. Sorry if I can't explain well the topic in English, I hope you can understand what I am trying to say and through the comments I can make it clearer. I will be happy to hear you! So, what is it for you? Is it true repent when you do something wrong? Or is saying "I'm sorry" something vague and an indulgement to incur in bad habits because you know there will be the "excuse" of being sorry and everything will be ok again? Thank you for your reading and comments!
6 responses

• United States
16 Jul
A sincere "I am sorry," is rather rare these days. I think people say "I am sorry" to end an uncomfortable situation rather than really being sorry. It is immature behavior to throw around an insincere sorry to escape discomfort. I think most of us are well aware of the times we have said "I am sorry" to just get it over with, but the sincere "I am sorry" does cause the one who says it a great deal of discomfort, but also relief.


• United States
16 Jul
@manandezo
I suppose we all have to be extremely careful to make sure our "I am sorry" fits the situation perfectly.

• Petropolis, Brazil
16 Jul

• United States
16 Jul
I am not often sorry, but when I am, I am most sincerely sorry as I have learned the consequences of something I may have done or not. Only by feeling the action on our side, can we truly know the meaning of sorry. One cannot be just mouthing the words, they mean nothing.

• Petropolis, Brazil
16 Jul
That is it,
@TiarasOceanView
! No one can mouth the word and mean nothing with it, but it is what happens, at least on my end, where people are too much thinking about themselves and not about others. Once, I was talking to a Japanese man and I asked him why Japan is considered so "zen" and everything works so well. He said: "when you see the other suffering and respect the fact that it could be with you, you start to stretch your hand out in respect, and respect comes back to you". Well, I know what people are capable of, and I also know that Japanese played bad roles in history, but everyone can learn from mistakes and I think they did and he still gave me a lesson that I like to hear and keep it in me so much, just adding something: "Respect and Love are the keys to live better". Thank you for your comment!




• United States
16 Jul
@manandezo
Thanks too I loved what that Japanese man had said..so true and fitting. Welcome Manandezo



•
19 Jul
Usually when a guilty person says, "I'm sorry" it means "Let's end this discussion about my shortcomings/misgivings/bad judgment right now. NOW. " It's a request for the other person to stop indicting them. No real repenting or feeling regretful necessary.

• Petropolis, Brazil
19 Jul
And no learning at all!

Thank you for the visit and comment! =)

•
19 Jul
@manandezo
- No, learning is put on the back burner during arguments I think.

•
16 Jul
That post really caught my eye. It is a very important word and you said it just right. I believe people have a very hard time saying that just like it is very hard for them to say "thank you or please". Maybe it is the way they were brought up. I am looking back on a mistake I made recently and I apologized for it but, still do not do any good. I felt better that I did it but not happy because people did not understand that I did not do it on purpose and I still felt I was being punished. Didn't they ever make mistakes?

• Petropolis, Brazil
17 Jul
This is a very good experience of yours and it is also nice you are trying to apologize. That is it! When we really truly repent and say we are sorry, we do not commit mistakes again or, at least, this is what should happen. If you allow me an advice, don't punish yourself because they don't understand "being sorry" request. Think this way, if you are truly sorry and if you made a move to say so to what you did wrong, then there is no need for you to torture. You made the step, you are truly sorry and you know in your heart you will not do it again. This is a good feeling, it means you learned the lesson. Now, you must let it go, and let the person mature this step of yours. If there is no matureness, they have this right, but recognition will have to happen, this life or the others incarnations to come. Thank you so much for you comment and story. I learned a lot with you!

•
17 Jul
@manandezo
Thank you that was really good advice. I was made because I wanted to sell calendars and when i did the mistake and apologized people did not accept it. Thank you.

• United States
16 Jul
To me, if we say sorry and truly mean it (like we should if we say it) then we'd never do or say what we're saying sorry for again.

• Roseburg, Oregon
16 Jul
The world seems to be getting worse sinse bad things seem to be happening all over the world all the time.

• Petropolis, Brazil
16 Jul
That is also my feeling and the word "sorry" is being emptied! =(