Going home tonight! What do you prefer: bus or plane?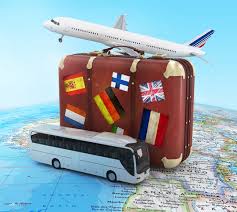 Petropolis, Brazil
July 17, 2017 2:11pm CST
Hello World! Since July 7th I am in Atibaia, São Paulo, spending some time in my partners home. Today I am going back home and will have to face a 7-hour trip to reach my city. In the past we used to go by plane to São Paulo, or Rio de Janeiro, in his case. But when we get to the airport, we had to take a taxi to the bus station, take a bus to another city, and there take a taxi to our homes. This was really tiring and so we decided to take only one single bus and done! By plane, the trip from São Paulo to Rio de Janeiro takes only 35 minutes and the plane fare is cheap, but all we have to do to reach the airport and leave to the cities we live, increase the price hugely and also the time spent. So we concluded it is better take only one bus during the night. But I'd like to know about you. Even facing so many commutes and shuttle buses to take, and taxis to reach the cities, what would you do? Would you prefer the comfort of a plane or going by bus and avoid everything on a direct trip?
10 responses

• United States
17 Jul 17
I would prefer the bus or train here. I would only go by plane if I absolutely had no choice. Regarding the wait times in the airport with security that is my reason.

• Petropolis, Brazil
17 Jul 17
That is my choice as well just to avoid so many commutes. Oh Lord, this is so tiring to be sitting everywhere waiting for taxis and interstate buses after the airport that I go crazy. Partner liked the airport more than me and he still made it more than me, but later after he realized it was a waste of time and decided for the direct bus as well. Unfortunately, Brazil hasn't discovered trains yet, for our desperateness and suffering!


• United States
17 Jul 17
@manandezo
Oh gosh that is awful!!! No trains??? That sucks big time..the trains are so much faster here, wish you had them. See this train goes directly to the airport Come live here!!! You and partner.

Bus and rail transit service to Denver, Boulder, and surrounding cities in Colorado. Find station information, route maps, schedules, and fare options.

• Petropolis, Brazil
17 Jul 17
@TiarasOceanView
Wow, this is wonderful! Yes, this sucks a lot not having trains here, but... I will talk to him and see what we can do, but everything is better than living here!





• United States
17 Jul 17
I would prefer the direct trip. I would not have the patience to deal with so many commutes and shuttle buses.

• Petropolis, Brazil
17 Jul 17
That is what I think as well in this situation,
@Corbin5
. I would love to go by plane, but the commutes kill me!

• Cagayan De Oro, Philippines
18 Jul 17
@Corbin5
, There are different attitudes we have to avoid, so your preference is best to have a direct trip.


• Philippines
19 Jul 17

@manandezo
It is fun to ride a local jeepney. I hope you can visit my country. Image Credit: www.siningfactory.com

• Petropolis, Brazil
19 Jul 17
@Shavkat
It must be really good to see your country! Here we have these microbuses only in the Northeastern part of the country.


• United States
17 Jul 17
It has been many years since I went anywhere by plane. I would prefer, car, bus or train these days.


• Petropolis, Brazil
17 Jul 17
Sure! This is what I prefer as well. Only when I need to go to far I prefer planes! =)

• Cagayan De Oro, Philippines
18 Jul 17
I prefer to commute by a public vehicle, we can meet many people.But I am driving my own car and sometimes commute if I like.


• Petropolis, Brazil
18 Jul 17
I can understand that. Here, living in a city very far from others, in a so big country, the waiting is too long between commutes, not to mention it is very violent in some big cities like Rio and São Paulo. We get really scared. But, when there is no way to do anything, I have to commute and pray!

• Petropolis, Brazil
18 Jul 17
@cacay1
Just like every place! I feel so desperate with it and all the problems we have in Rio that I am almost giving up Brazil and looking for another place to live. Here is really awful these years and we are facing a war in the streets, and being hostages in our own home.



• United States
9 Jun
After what you said about all the different obstacles to use the plane... I say bus! I have never ridden in a plane. The idea of a 7 hour bus trip sounds fun. So many are in a rush to go from one spot to another... They miss the view, the fun, and the excitement of doing the trip...