Instructions for a heatwave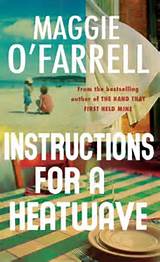 United Kingdom
July 18, 2017 4:45am CST
When I saw this book in the library last week I thought the title was appropriate because we have been having a lot of hot weather here in the UK over the last few weeks. So I thought I would borrow it and read it while sitting outside in a deckchair. The story takes place in 1976 when there was a heatwave so bad that water had to be rationed. The book is about a fictional family whose father goes missing one day. While they are trying to find him, several family secrets are uncovered. I enjoyed this book because the characters were interesting and were not unlike real people in the real world.
8 responses

•
18 Jul 17
I would like to read this book too. Its sounds really interesting with lots of family secrets.I live in Michigan so there have been hot days here this summer. Most of the time the hot or heatwave days in August. The humidity is really bad in that month where its better to be under the air conditioning.

•
18 Jul 17
Sounds Interesting fella


• Hong Kong
18 Jul 17
@millie02
That's book seems to be an interesting and good read my friend.



• United States
18 Jul 17
I have never read that one but it sure would be appropriate with the weather coming in the next 40 hours !


• Los Angeles, California
18 Jul 17
Sounds like an intriguing mystery plot.