The world's most pampered alligator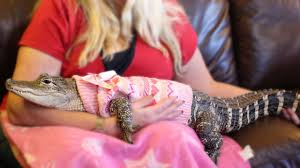 Guangzhou, China
July 19, 2017 8:39pm CST
The pets are usually cats, dogs, fish and birds. Hard to believe that someone has an alligator as the pet and she really adores it. You can check the video here http://animals.barcroft.tv/alligator-owner-dresses-pet-reptile-clothes-tiara-manicures I don't think the alligators have the similar intelligence like cats and dogs, so perhaps it will never have the affection to its master like cats and dogs. And I think it is quite dangerous to have the alligator as the pet.
7 responses

• Roseburg, Oregon
20 Jul 17
One day the alligator might decide to eat its owner. Yum it will think and the owner will be gone.

• Philippines
20 Jul 17
I agree it is dangerous to pet an alligator. We will never know when this reptile attacks.



• China
20 Jul 17
There is nothing new under the sun.How come some have an alligator as the pet? As a saying here " to rear a tiger is to court calamity." However I have learnt that some people breed pigs as pets.

• United States
20 Jul 17
Tony had one but it began to bite then they put him in the lake