Thundershirt is on the cat! He is down for a few!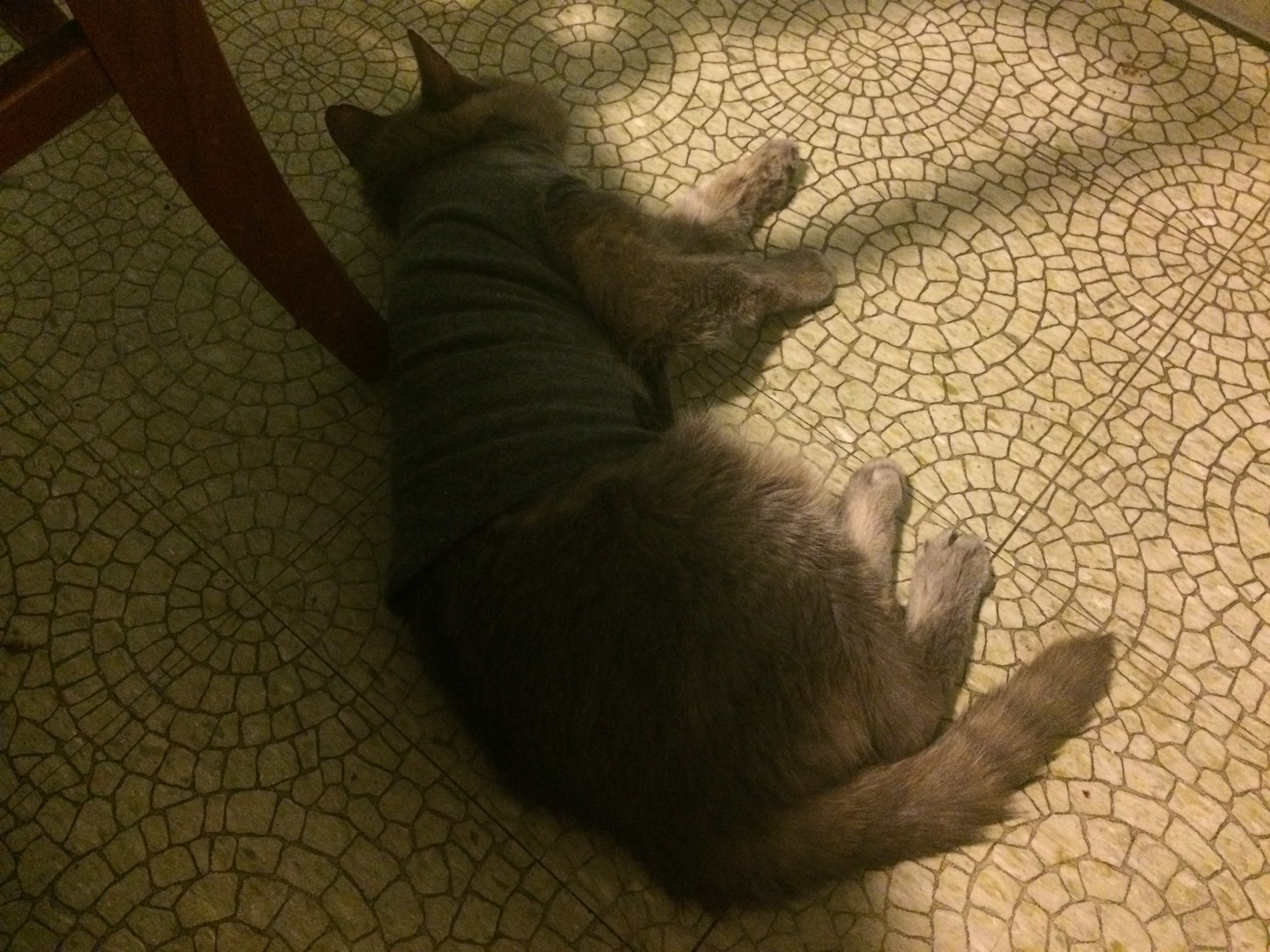 United States
July 24, 2017 9:12pm CST
It is always funny to me when I have to wrap up my old man cat in his ThunderShirt. It is a felt velcro wrap basically that you get really snug around the torso and the pressure is supposed to alleviate anxiety. I honestly have no idea if it does or not, but I figure that even if it does a little bit, it is worth still using with my cat who is PETRIFIED of thunderstorms and fireworks. A thunderstorm was coming tonight so I wrapped him up tightly. For the first several minutes after he gets the ThunderShirt on him, he loses all sense of balance, tips over, and then just lays there for awhile. . . or until the first loud crack of thunder or fireworks happens.

Eventually he figures it out and re-establishes his equilibrium again. He was fine and walking around about half an hour after I took the above picture of him looking paralyzed on the floor. Dumb cat. Now the storm is hitting and he is buried under the sheets and blankets on our bed and shaking like a leaf. Poor old man doesn't like thunder.

5 responses

• Italy
25 Jul 17
I wonder how wild animals, the ancestors of pets, usually deal with thunders.

Does he like the shirt then?

If it feels like snugging, it should be okay maybe.

At least your cat knows how to get safe.


• United States
25 Jul 17
They were used to living out in the open with the storms. This cat was fine with them for awhile. We didn't notice him getting strange and scared about it until he was like 7 or 8. Maybe there was a close lightning strike one night while he was out making his rounds. For whatever reason, he suddenly wasn't a fan of loud noises any longer. It is really a pathetic sight to see these days. Shaking, drooling, trying to burrow into your elbow, etc.

•
25 Jul 17
Its so tough for pets, those thunders and sounds of fire works make them mad

• Garden Grove, California
25 Jul 17
I feel so sorry for pets in those storms so scared so sad

• United States
25 Jul 17
He really suffers. He shakes and drools the whole time. I'm always afraid he is going to have a fatal heart attack due to thunder or fireworks. He is 98 in cat years and has been an indoor/outdoor cat for a lot of that time, plus has been stuck outside in a bad blizzard. He's living on borrowed time!