Masks " Do it like in Africa"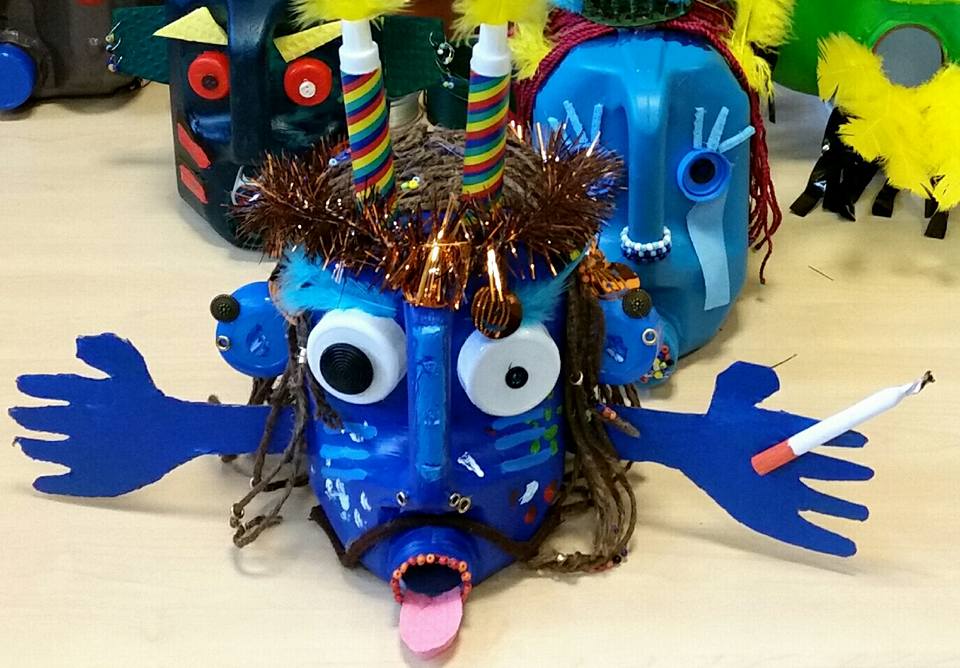 Strasbourg, France
July 25, 2017 4:56am CST
Hello beautiful souls I've been absent for a while... Up to now I'm having quite a busy summer, will start my real vacation from august. I held a plastic arts workshop with different groups of kids with different ages and backgrounds. I taught them how to create masks as people do in Africa, but I let them choose the colors and forms and shapes. And of course we created them with recycled materials. So here is a mask of Bob Marley, I couldn't stop laughing at this one ! I love the eyes, and yes I helped the 7 years old a bit to finalize the hands and the cigarette. I still have 4 more days by the end of August and then we will exhibit their masks in a lovely gallery from 4th of September. So what do you think ? Does it look like Bob Marley ? I joked with my little artist fella and told him that Bob Marley might have looked like this the very last second of his life, and he absolutely loved the idea of getting closer to "Corpse-Marley" mask.
8 responses

• Hong Kong
25 Jul
@pocabellla
Yes it looks like Bob Marley in a way my friend.


• Strasbourg, France
25 Jul
I think if we look at it from the eyes of a 7 years old we can see Marley in it.

• Hong Kong
25 Jul
@pocabellla
You are right on this my friend from the eyes of a child.


• Strasbourg, France
25 Jul
@mandala100
Yes their vision is magical ! I can't wait to share the exhibition pictures with my mylot friends soon !

• Strasbourg, France
25 Jul
@nomus24g
:)) I know not literary but that kid saw the resemblance and named it Marley.. That's what I love about them.

• India
25 Jul

•
25 Jul
Looks So artistic and Good



• Strasbourg, France
25 Jul
Yes, Well the kid saw Marley and so shall it be Marley... but the idea was just to create masks in their own way :) !

•
25 Jul
They are very interesting for sure! :)


• Strasbourg, France
25 Jul
Yes, and maybe the hair ? Well for me it's important that they create a personal mask and this kid nailed it ... he gave it a character, a meaning and a very strange gesture ( coughing with those eyes). He has all it takes to become a great artist. Wishing you a great vacation Gil :)

• Israel
25 Jul
@pocabellla
You do a such a great job with your children students and your ideas for the works of art you do with them are excellent, well done. Thank you


• Italy
25 Jul
That's sweet!

Bob Marley wasn't blue, it would have looked like him otherwise perhaps.

The facial expression is hilarious, indeed.

The fact it was his last second of life, I guess the color is now justified.


• Strasbourg, France
25 Jul
lol yeah ! I mean who could remain blue during his o her full life, lol :))

• Philippines
25 Jul
Well I wouldn't have recognized it was Bob Marley till you mentioned it. But it's a good work of art though!