improvements you should

Janesville, Wisconsin
July 26, 2017 10:40am CST
Improvements your should If you can improve something... You Should.. If you can will into being a better turn.... You Would... If you can push someone who would not otherwise attain the better... You Could... If you can manifest the better in yourself and others.... You woulda shoulda coulda.. Always do your best, and have no regrets. If you always do your best and have no regrets... You know in life you will have always done your ulitimate best... Even if that best turned out to be what appeared to be wrong, as part of a little learning test.... You will know in life.. No matter what... even if Failed for a moment.. You will have learned to turn it around attaining knowledge, wisdom and experience.. To have done your best, and to have always brought out the best in others. 07202017 DNatureofDTrain
3 responses

• Hong Kong
26 Jul 17
@dnatureofdtrain
Thank you so much for this insightful thoughts.


• Janesville, Wisconsin
30 Jul 17
Thank you, for taking your time to read and comment on my train of thoughts. :D

•
17 Mar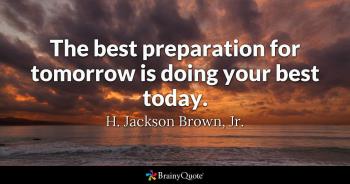 I guess the message here is to try no matter what. Give it your best effort and you can be satisfied whatever the result.

• Janesville, Wisconsin
19 Mar
Always do you best, and have no regrets.. even if you find out later what you did was not really the best, you knew you did your best that you knew how at the time and you learn to do your best even better.


• Janesville, Wisconsin
30 Jul 17
Thank, You, and Always enjoy your journey and keep rocking at life :D