Gratitude Challenge Day #900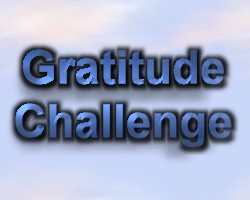 United States
July 26, 2017 11:41pm CST
Hey, there everyone. My connection is slow and I'm tired, so I'm gonna get right down to the Gratitude Challenge. It's after midnight, so this is my gratitude list for Wednesday, July 26.... 1. Babysitting went smoothly on Tuesday. 2. I also watched WWE Smackdown on Tuesday, and I enjoyed it. 3. It wasn't unbearably hot when my niece and I walked to the store today. 4. There is still a good selection of work to choose from between my writing teams (on Textbroker). 5. I was able to order my teenage niece the very first My Chemical Romance CD for her birthday. She found it on eBay for $11ish. 6. Donnie Wahlberg followed a few of my friends lately, and that makes me happy for them. Alrighty, I'm gonna get ready to wrap everything up and hit the hay. G'night, or good morning, and take care, everyone. Photo Credit: I made this graphic using PhotoImpact 6.
4 responses

• United States
27 Jul 17
Yay for cheapish cds and Donnie follows!

• United States
31 Jul 17
Yes! She's been wanting this CD and it's always been too much because it's the FIRST My Chemical Romance CD. I'm not even making her wait once it gets here; she's waited long enough. :) And yessss! It makes me happy to see my friends happy! I'm not asking Donnie to follow anyone for a few days tho, to give him a break, esp. since he just posted about a fellow actor passing away. Luckily my friends who are trying will understand.

• United States
31 Jul 17
@tammys85
i wouldnt let her either. Lol. Aw


• United States
4 Aug 17
@Courtlynn
Right now I'M playing the waiting game; it's due here any day now lol. Yeah. :-/



•
27 Jul 17
WWE is pretty interesting these days. Thanks. Have a very good night