time to regroup & get over it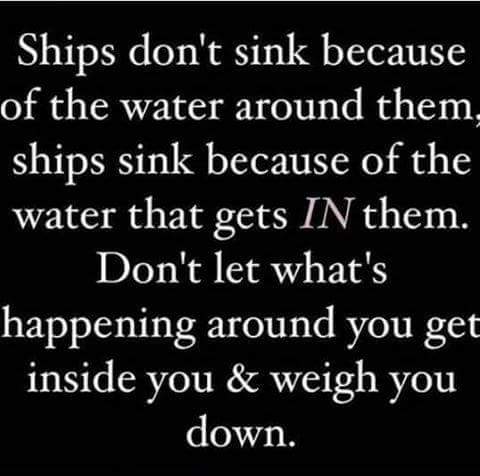 Greencastle, Indiana
July 27, 2017 3:01am CST
Howdy There friends hows it going? Hope you all are having a GREAT day. You ever have times in your life where it feels like everything in your life is a joke? things go wrong nothing goes right for you. I've had my life go that way MORE than I care to even want to think about now days & it has really made me think about things. I spent most the day today thinking about everything that has happened in my life & I hate to say it but it's NOT been fun for me. But I have over come everything I've been put through it hasn't been easy to do I have to say but without god I wouldn't be here. I also spent most my time while interacting with you all I have my you tube channel on listening to the word of god while I work.

I know there's not ONE person that hasn't had something go wrong in their lives one way or another & have come through it. I have a blog post I wrote of just PART of a time in my life where it took me 4- EVER to get over or put it behind me to move on. I have to say if you don't believe in god I don't know HOW you get through the things you have been through without him. IF you read my blog all the way to the end you'll see Joel Osteen on the sermon of DROP IT, THAT'S what help me move on. If you have something that you can't drop or get over then I feel that would be a way to learn more of how you can do just that. It took me 10 yrs to come to learn HOW to let lose of the past & get over it all & HOW to move on after I listened to it. It's not nothing easy to get over such stuff as I have been through in my life as most of you have read my life story I wrote here. But I have to say it helps to put god 1st & he's the MAIN one that help me get through everything I've been through. Rather you believe that or not that's you' but I believe it with all my heart that if I didn't have him working on me like he has I wouldn't be here with you all today. I wouldn't be as healthy as I am today I wouldn't be where I am today in my life I wouldn't be the person I am either.

I will tell you this blog just isn't something that was something I wrote, it's what we went through that god brought us THROUGH. Thank you God for bringing us through everything we have lived through, praise you lord for being in our lives everyday.

Hello readers here it is a Sunday evening of the 31st of July 2016 I haven't had the best of  ANYTHING to be happy about specially  anyt...
8 responses

• Green Bay, Wisconsin
27 Jul
I know your story and yes, you've come through it only with God. My life is all because of God too. Joel Osteen is a good preacher.

• Greencastle, Indiana
27 Jul
@just4him
yes he is & he has a very understanding way of teaching the word where it's easy to learn & apply it to my life, as well as Joyce Myers is good too.

• Green Bay, Wisconsin
28 Jul

• Greencastle, Indiana
28 Jul
@just4him
theres another one I like I can't think of her name but she's a white woman & I use to listen to her all the time but I lost track of her, maybe you know who I'm thinking about? OH YEAH I got it her name is PAULA WHITE you heard of her?

Pastor Paula White of New Destiny Christian Center in Apopka Florida has been in the middle of an intense series titled "Why The Enemy Shows Up". Join us whi...


• Boise, Idaho
31 Jul
Strong lady. I like that saying.

• Greencastle, Indiana
31 Jul

• Boise, Idaho
31 Jul
@sugartoes
.....the one about ships that you used as your photo on your post.

• Greencastle, Indiana
31 Jul
@celticeagle
oh lord I have NO clue on that one if you can find it that would be a big help, or what the post was about jog my memory a bit will ya?


• Boise, Idaho
27 Jul
I'm an atheist so that wouldn't really help for me. Glad you are able to find something in your relationship with your God. I have been diagnosed with severe depression with panic attacks. He has never been there before or after I was diagnosed.

• Greencastle, Indiana
27 Jul
@celticeagle
I don't want to sound rude or mean but if you changed your faith I which isn't that hard to do & pray I believe your health would change for the better.

• Boise, Idaho
27 Jul
@sugartoes
.......Sure. I'm sure you do. Being an atheist isn't just a passing fancy.

• Greencastle, Indiana
27 Jul
@celticeagle
well what I know & what I've seen & what I've heard in my life time, there's those that he looks to help & does what needs to be done by them just asking as I have done MANY times & he has answered ALL my prayers & those that don't get the help or their prayers answered, there's a reason that you have to search on what it is he's looking for to get your prayers answered. That's why it may be best to change your faith to get your prayers answered, or change your beliefs something cause from what your telling me something isn't working right for you.



• Greencastle, Indiana
27 Jul
@Nawsheen
Yes it is till you learn to let it go & move on it took me a LONG time to learn how to let it go & drop it. Do you listen to the word of the bible on you tube? I have it turned on while I work & it helps change my actions on how I live how I think & how do things in my life.

• Mauritius
27 Jul
@sugartoes
In fact during those hard times I prayed to God and he sent a friend to me. My friend helped me to let go of my past. Today I am a happy person.

• Greencastle, Indiana
27 Jul
@Nawsheen

AMEN he does answer just not on our time sometimes but he does answer at the right time.



• Greencastle, Indiana
27 Jul
@HazySue
I put my faith in god cause he has helped me get through A LOT of things over the years & to learn more about the word of the bible in ways I can understand it better, I enjoy Joyce Myers & Joel Osteen & there's a few more I listen to & they haven't steered me wrong I wish everyone would learn about what god can do for them, I've heard so many that don't believe & it just stuns me but yet they complain how their life is.

• United States
28 Jul
@sugartoes
Faith makes all the difference in the world. If you don't go that extra mile to keep that faith alive you can't complain.

• Greencastle, Indiana
28 Jul
@HazySue

you SO right & I do put faith & trust into the word of God.

•
27 Jul
In life we should be ready to face challenges, And I'm happy that you are doing well, Little Tiger

• Greencastle, Indiana
27 Jul
@dollaboy
the word of god is a very awesome thing to have in our lives.

• United States
28 Jul
Even when things hadn't been all that good, I still had some faith. If we believe in our hearts, he does listen and guide us.

• Greencastle, Indiana
28 Jul
@Susan2015

amen on that YES he does that's what I TRY to get across to those that DON'T believe in him & want to try & argue how their lives are the way it is.