This made me rethink....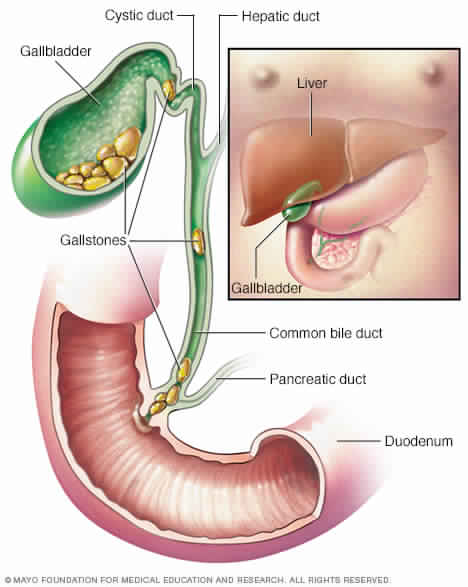 Rass, Saudi Arabia
July 29, 2017 10:45am CST
I start my duty 7am, upon arriving in ER... I saw my colleague laying on of the beds there. He was in agony and saying he is feeling severe pain in his abdomen. After a few test, ultrasound reveals he has 2 gallstone in his gallbladder and the biggest was 2.6 cm. He was healthy guy. Active and well desciplined. He eats right ( i think ) and we play basketball every day off. Later evening, after my shift, I'd ask my friend to do an ultrasound on my kidney and liver. 2 days from now I'll ask them to check my blood chemistry as well. I'm healthy, but today, the situation really made me think... How about you? How healthy are you? Photo is from Google..
10 responses

• United States
29 Jul 17
I have some things that are wrong with me, but so far no gallstones. Some families are predisposed to them. My blood chemistry gets checked on a regular basis and all those other labs. Generally witth gall stones you may not know anything is wrong until they show up. You may have nausea and stuff for a while but kind of pass it off as nothing.

• Rass, Saudi Arabia
29 Jul 17
@GardenGerty
Yes indeed, no warning signs. Symptoms are too common to predetermine the disease. Thats good to hear about you having a regular check up.



• Rass, Saudi Arabia
29 Jul 17
@marlina
True, he is lined up now for a surgery...

• Canada
29 Jul 17
@Neiltarquin
Now, it is a lot easier the surgeon can do a laparascopy and it is easy to recover.

• Rass, Saudi Arabia
29 Jul 17
@marlina
Yup... That's what his procedure would be...


•
29 Jul 17
I don't know, my friend. Haven't had a health checkup for a while now. Yeah, I am suffering from insomnia though, so I guess I'm not fully healthy. But it doesn't mess up with my routine work though. I take a few short naps in the afternoon. So I guess, it's okay that way. (*_*)

• Rass, Saudi Arabia
29 Jul 17
@shikharava
Embrace your fate my friend... Your illness favors you...

•
29 Jul 17
@Neiltarquin
I guess, it does, my friend. And thank you for your words.(*_*)

• Rass, Saudi Arabia
29 Jul 17
@shikharava
I do have difficulty sleeping but I can't write as good as you...


• United States
29 Jul 17
Normally I won't get something checked unless I am having problems with something.. I have had my gallbladder removed, Sometimes it just doesn't matter how healthy you are or what you eat, Some of the healthiest people I know have the most health issues.

• Rass, Saudi Arabia
29 Jul 17
@CookieMonster46
I agree... The good thing is he is working in a hospital. The best staff is there to help him.

• Daytona Beach, Florida
29 Jul 17
Actually I think I am quite healthy. No major complaints. I have not had any kind of illness like the flu in ages. Always ready to up and go unless I feel a bit down or tired then I just lay down for awhile.

• Rass, Saudi Arabia
29 Jul 17
@RasmaSandra
Wow good for you... Maybe your one of those people who is unbreakable...




• United States
29 Jul 17
First, I hope your tests show that you are very healthy! I'm not at all healthy. I smoked for 40 years before I quit 10 months ago and now I have a lot of trouble breathing. It is better than it was as my poor lungs fight to clean themselves but I can't walk far without getting out of breath. I have hypertension and there is something wrong with my heart, the doctor suspects, but I can't afford the tests to find out what it is. Now I have noticeable swelling in my left leg and I have no clue why. So I'm not in very good health. Since I found out about the hypertension I've cut out most of the sodium from my diet and I'm sure that's better for me. I'm glad you found out what was wrong with your colleague. Is he having his gallbladder removed? I hope not, that will be a major lifestyle change.

• Rass, Saudi Arabia
29 Jul 17
@dragon54u
I'm sorry to hear about your condition. One good thing is you quit smoking. That is acutally one of the reason your being hypertensive. Swelling of your feet is because of high fluid retention of your body. Diabetes Insipidus and kidney problems are some of the disease that can cause that swellin. Do a personal observation... Try to measure you fluid intake and output....

• United States
29 Jul 17
@Neiltarquin
I did not think of measuring fluid but will do so. Thank you for the suggestions!

• Rass, Saudi Arabia
29 Jul 17

•
30 Jul 17
Not that healthy. I fell into the bathroom many years ago on my right arm and it is in bad shape and then my left arm is like my left. I have rhinitis and I suffer very badly in the winter and can get bronchitis and sinusitis. I have appointments with my doctor almost every month so he can keep an eye on me.

• Rass, Saudi Arabia
30 Jul 17
@Hannihar
I'm so sorry to hear that. Regular visit to the doctors is sometimes needed to keep our body healthy. What about your eye? I hope it's not that severe....

•
30 Jul 17
@Neiltarquin
I don't have to visit my eye doctor because my eyes stay the same. I have great hearing but I have a pair of contact lenses and two sets of glasses. One pair is for seeing far and another for reading, but, not reading here.


• Rass, Saudi Arabia
29 Jul 17
@velvet53
Im sorry to hear that.. About my colleague's condition, he is now scheduled for an elective surgery. Hope everything ends well..

• Philippines
30 Jul 17
i hope all your tests will turn out okay.