Calling the Emoji Designer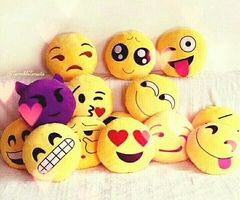 South Africa
July 31, 2017 2:08am CST
Today I found out that there was actually an Emoji Movie - news to me! While working on our Ballet and Bowling Website I needed to use an appropriate emoji . . . and neither a Lawn Bowl nor a Ballerina was anywhere to be found. So how do I go about letting the Emoji Designers know that I, (and I am sure millions of other ballet and bowling enthusiasts) would LOVE these new emoji's added to the encyclopedia of EMOJI's The ballerina can have - DANCE like no ones watching translation and the LAWN BOWL can have "born to bowl" HAPPY FACE interpretation. What do you think? Do you an emoji you would like to add to the Emoji encyclopedia?
9 responses


• South Africa
31 Jul 17
@topffer
Let me try and convince you - when I see a lawn bowl I feel FREE of my housework, free of my husbands long list of TO DO things and at the end of it all I see a long cold Peroni Nastro Azzurro waiting for me. The Ballerina lets me feel - graceful like a lady





• United States
31 Jul 17
Hopefully they will grant you your request.


• Japan
31 Jul 17
I need a flute emoji. Trumpet and keyboard has one! Flutes are just long sticks with holes so maybe it would be a boring emoji, though.

• Banks, Oregon
31 Jul 17
I heard about the movie, but I haven't seen it.

• Bunbury, Australia
2 Aug 17
I'd like a horse and sheep - that shouldn't be hard! But I'm not sure about the emotions connected with them.