"The Time Has Come," the Walrus Said...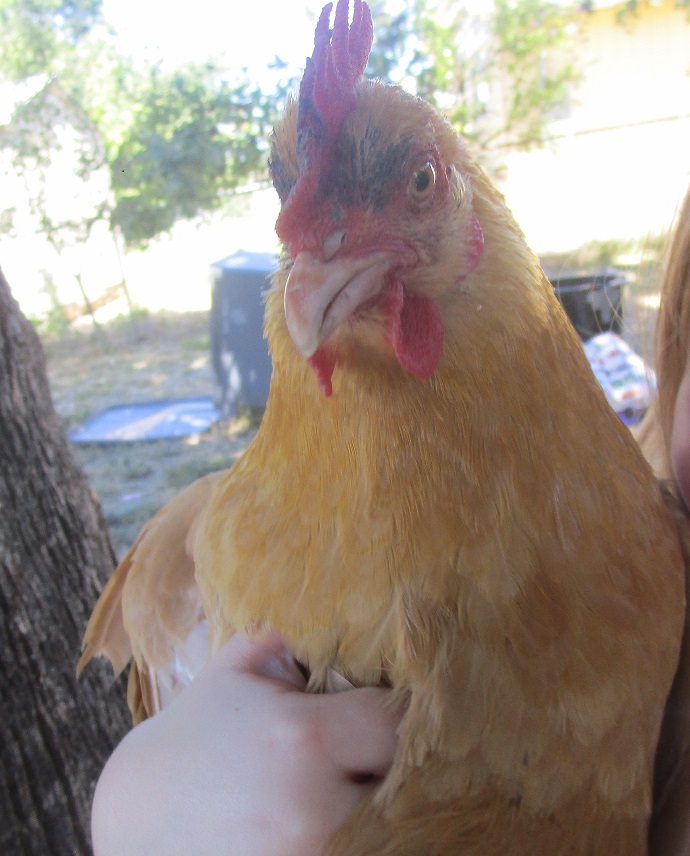 United States
August 1, 2017 6:27pm CST
..."to talk of many things Of shoes--and ships--and sealing-wax-- Of cabbages--and kings-- And why the sea is boiling hot-- And whether pigs have wings." ** And let's not forget about chickens! We have this habit, at our house, of raising chickens and then deciding,
"Meh, this ain't for us!"
. So we sell said chickens only to buy more a few years later, after we've "conveniently" forgotten that they weren't "our thing". I say
we
but I really mean
me
, because my husband in no way, shape, or form is interested in raising beast nor fowl. This last March we bought 6 cute little chicks from our local farm store. The little kids had begged for chicks but I was the main one interested in bringing them home. I had dreams of never having to buy an egg again (let's forget about the cost of chicken feed, mkay?) and being a tad bit self-sufficient. Buuuut...all good things come to an end. Just as the chicks--now hens--developed into egg layers, we came into a stage in life that put the chickens in a bad spot: we have to move. We don't know where, exactly, but it'll probably be sometime this month. And I'm assuming wherever we go, the chickens won't be allowed. And so, today, we found our four ladies a new home. In fact, their lifestyle will greatly improve as their new owners have two roosters. Lucky ladies!

How many of y'all have chickens? Isn't it
awesome
(despite the poop) gathering your own eggs? **poem snippet,
The Walrus and the Carpenter
written by Lewis Carroll**
10 responses

• Winston Salem, North Carolina
2 Aug 17
We have chickens and in all honesty the poop is almost as awesome as the eggs. It makes wonderful fertilizer! We've lost several flocks to predators and I keep saying we'll (I'll) never do this again, but invariably I succumb to the temptation of wee, fuzzy chicks and we start the whole silly cycle all over again.

• United States
3 Aug 17
Oh yes, chicks are so hard to resist! A couple days before we sold the hens, my 4-year-old slipped in some of the poop that was on the porch. It was smeared all over her shorts, legs, and shirt.

I definitely won't miss that part of raising chickens...though I do agree it's great for the yard. I just wish they'd stayed off the porch! They also had a thing about coming inside the house every time the kids left the back door open. I can't count how many times they pooped on our carpet.

Next time (if there IS a next time) we'll need to get a coop instead of letting them have free range in the backyard.

• Winston Salem, North Carolina
5 Aug 17
@Genipher
a coop is a must. Ours are incarcerated most of the time, but we do turn the loose in the yard every evening. Ours don't try to come into the house.

• United States
9 Aug 17
@Platespinner
I hate to keep them confined all the time but...the poop! I like the idea of letting them out for a certain amount of time in the evening. That way they can roam a bit AND rid the yard of bugs. We'll have to try that, should we ever get chickens again.




• Jacksonville, Florida
2 Aug 17
I have no desire for chickens, I have enough work to do! Lol.

• Hong Kong
1 Aug 17
@Genipher
This is a good one my friend.

I'll see you later.








• Green Bay, Wisconsin
2 Aug 17
I've recited that poem many times, at least the beginning, I always forget the second part of it, so I appreciate reading it here. I'm sorry about your chickens, though I have a feeling your husband won't miss them. Why are you moving?

• United States
3 Aug 17
I've always liked that poem, too. I often recite that one portion to the kids when it's time for bed.

Oh, my husband wasn't asked to come back and teach at our local college and since we can't make it financially without that income, he had to find another job. The new job is in a new town, which means we have to move. On the plus side, we'll be moving back to where most of our friends live.

• Green Bay, Wisconsin
4 Aug 17
@Genipher
So some pros and cons to it just like everything else. I hope you find a nice home.



• United States
3 Aug 17
@LadyDuck
Here you either have to have neighbors that don't care (ours don't) or the coop has to be "x" amount of feet from the neighbor's houses. And roosters are absolutely NOT allowed. Though with only 4 chickens the stink wasn't too bad. We kept it as clean as possible to not offend. They can get rather stinky if not taken care of!


• Waikoloa, Hawaii
3 Aug 17
i love chicken fried chicken chicken can be a good pet too like dogs they can train