Thanks for the memory...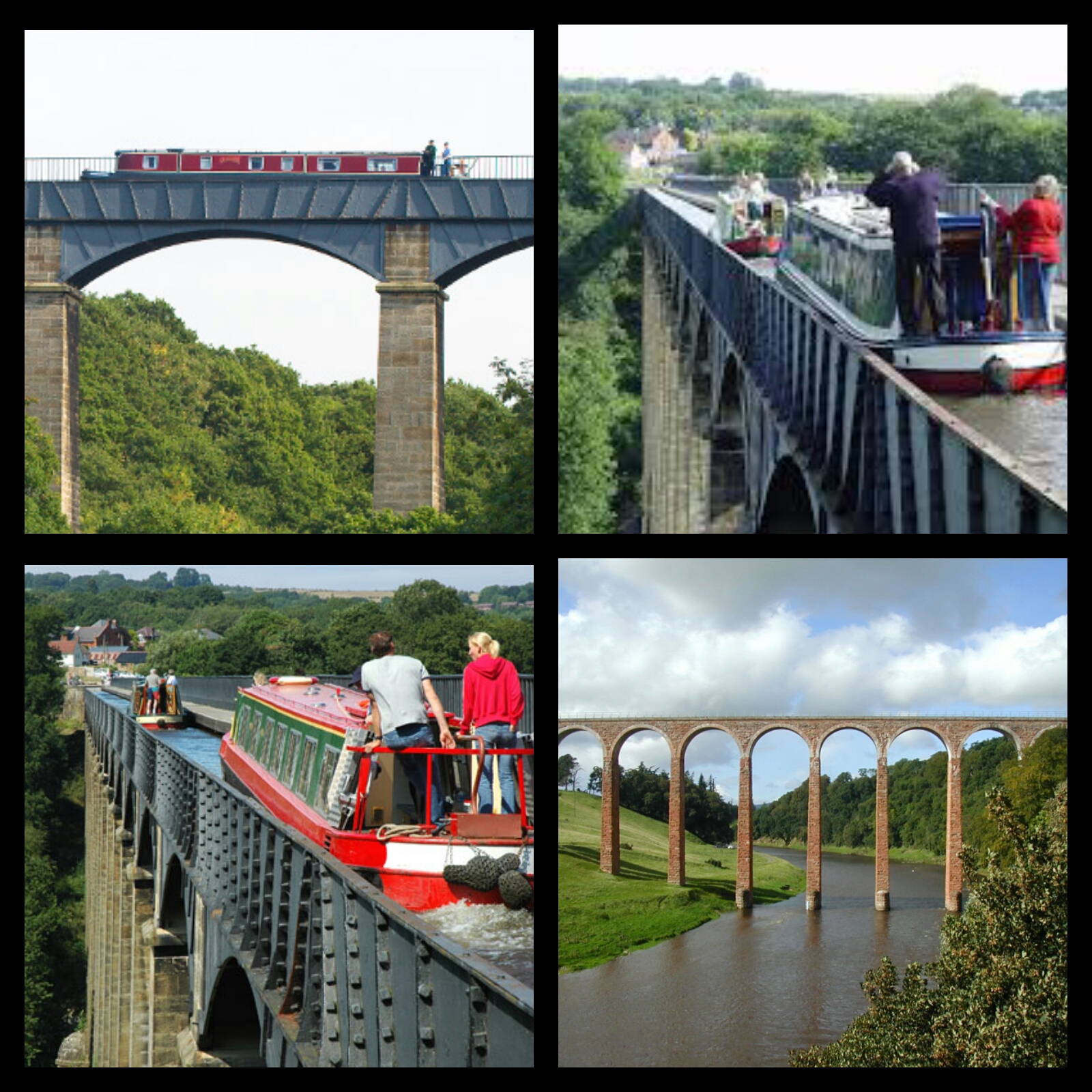 Alicante, Spain
August 3, 2017 7:36am CST
This post was prompted by @JudyEv 's post  about a very tall road bridge they encountered while holidaying in france. This is the link to it.. http://www.mylot.com/post/3088797/viaduc-de-milau-one-very-high-bridge  Judy was saying, she was not sure that her husband wanted to drive across it,   because he did not like hights, which put me in mind of an aquaduct I went on once... while on a narrow boat holiday.   The Pontysycillate Aquaduct is a grade one,  historic point of interest, with outstanding  views of the welsh countryside... and it's tall..., not as tall as the road bridge in france...,  but...,  much scarier to cross ( not that it's a competition)     The  following information is from Wikipaedia...The technical stuff...  lol The  Pontysycillate Aquaduct, is a navigable aqueduct that carries the Llangollen Canal across the River Dee in north east Wales. The 18-arched stone and cast iron structure, which took ten years to design and build, was completed in 1805. It is now the oldest and longest navigable aqueduct in Great Britain and the highest in the world. The bridge is 307 mtrs long,  and  3.7 mtrs wide,  and 1.60 mtrs deep. It consists of a cast iron trough supported,  126 ft (38 m) above the river, on iron arched ribs, carried and supported on eighteen, hollow masonry pillars. Each of the 18 spans is 53 ft (16 m) wide. See the post photo, as a real idea of what it looked like, the water  sat in the metal trough, and all that seperated you from going over the edge and plummeting to the ground was 3 inches of iron.  See the photo of how close the boat fits the trough, and... what a sheer drop it is on one side... I started of sitting on the back of the boat like the people in the photo, but then, I had to go below... I could not cope with how high we were, and the narrowness of the trough..., couple that with an over active imagination for impending doom...,  and I was too anxious to enjoy it.... I went below and made a cup of tea... I looked out of the side windows..., and the view was fantastic...  but..., I  did not look down again, until we had finished crossing at a very gentle pace of three miles per hour... but it was a great holiday and happy memory ....


6 responses


• Alicante, Spain
4 Aug 17
I'm sorry to hear that
@Juliaacv
.. . i'm not usually too bad...but this one did get to me...




• Alicante, Spain
4 Aug 17
yes ... they built some magnificent structures...

@LadyDuck

• Boise, Idaho
3 Aug 17
That is definitely one long bridge. I don't like heights either but as long as I looked ahead and not down I might be okay.

• Alicante, Spain
4 Aug 17
thats what I ended up doing too ...
@celticeagle
and it was better...


• Boise, Idaho
5 Aug 17
@sueznewz2
......Some bridges aren't bad but, there are some.

• Bunbury, Australia
3 Aug 17
Thanks for the mention. Heights don't usually worry me but I can imagine that I may not have liked this much! I would have gone below too I think.


• Alicante, Spain
4 Aug 17


yeahh I was a bit surprised that it bothered me... but I still enjoyed the trip
@JudyEv
Did you show vince the pictures ?

• Bunbury, Australia
5 Aug 17
@sueznewz2
Yes, I did. He was very quiet - and didn't say he'd love to go there.


• Canada
4 Aug 17
Wow that is some trip!! it looks so beautiful and too scary for me.

• Alicante, Spain
4 Aug 17
you're right there
@PainsOnSlate
.... it was lol


• United States
3 Aug 17
Oh my. I have a terrible fear of heights and I would have to go below too if someone made me ride in that boat.

• Alicante, Spain
4 Aug 17
there was a footpath on the other side.... but I did not think that would have been any better.. lol
@Corbin5