Drones Spying us Privacy no more!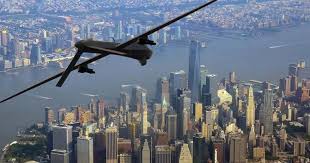 Waikoloa, Hawaii
August 3, 2017 8:03am CST
i have a drone i love using this technology capturing beautiful scenery of every city ive been too....i read about survillance drones of government and i watch in TV that Pentagon admits using drones to spy on Americans maybe in the coming years many countries would do the Same and copy this idea to spy its citizen my Question is if thats happen what would you do?? of course Our Privacy is at risk
5 responses

• India
3 Aug 17
wow its amaging bro ... and congratulation to you you have very good idea and i'll hope most of country use thiss idea

• Waikoloa, Hawaii
3 Aug 17
Wow bro thank you so much i appreciated your comment and thanks too for compliments


yeah a few years or in the future probably i predicted that this will happen

• Hong Kong
3 Aug 17
@kepweng
I think many will question the legality/constitutionality of using drones to spy on us as indeed being invasive of our right to privacy. It will be like George Orwell's "Big Brother" watching over our shoulder which doesn't sound right and makes us really uneasy my friend.


• Waikoloa, Hawaii
4 Aug 17
yeah its like bigbrother watching us for sure its a worldwide spying global surveillance and Cia behind this if you watch the movie snowden you can have idea



• Waikoloa, Hawaii
3 Aug 17
nice my friend its just like remote control thier are many shops online that can sell drones one is amazon hope that helps and what would you do if you already purchased one??


• Waikoloa, Hawaii
4 Aug 17
taking pictures and videos drones have videos too i have one so ill know