Homemade Sushi,Sashimi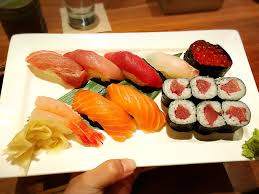 August 3, 2017 12:39pm CST
this day im gonna be a cook cause thiers no one in the house im the one to cook my own food ill go to supermarket to prepared my menu ill buy a salmon to make a sushi and sashimi take a walk to find a nori wrapper cause already sold out in the supermarket gladly my Mission is Finish

go back home now to cook this delicious treats its takes me 35 minutes to prepared this 2 dish Wow nice i feels like in heaven when eating my hardly made food than buying in a restaurant . Do you like Raw food?

like sashimi?
10 responses

• Hong Kong
3 Aug
@kepweng
Sushi and sashimi are among my favorite foods especially when you dip it on soy sauce with wasabe!



•
4 Aug
good for you

i dont like wasabi my taste buds not taste good if i eat it not compatible i prefer more the kikoman soysauce than regular one and a spicy chile and fried garlic and mixed it all with lemon and dip it my gowd you like in heaven flying like an angel


• Hong Kong
5 Aug
@kepweng
That sounds really tasty my friend!


• Philippines
3 Aug
Oh yes I like sashimi on my sushi provided I have wasabe and kikkoman soy sauce. I like other fillings besides raw fish on my sushi like mangoes, cucumber and crab meat. Filipinos have a version of eating fish and other things raw called " kilaw" and I just had kilaw fish yesterday as appetizer with lots of hot chili pepper


•
4 Aug
yes its good if you used the kikoman brand in the philippines is that expensive in the philippines?? nice you have many varieties of sushi thier you dip it with many foods hope someday i can eat that kilaw looks good with chili i love spicy foods too


• Philippines
4 Aug
@kepweng
it's a little bit more expensive than the regular table soy used for cooking. My family would be more than glad to serve kilaw, unlike sushi the acidic vinegar (later discarded) cooks the small variety of fish called "dilis" then its mixed will spices and chili and allowed to stand for a little while to cook somemore on the ingredients and later squeezed with native lemon.

•
3 Aug
It's not my kind of thing.


•
4 Aug
i respect your desicion many people have different taste


•
4 Aug

• Garden Grove, California
4 Aug
noi I l ile m y fi sgh cooed

•
4 Aug
yes true sashimi and sushi really taste good and the best one of



•
4 Aug
yeah i respect if you dont like fish but you dont eat seafoods? at all? i love seafoods



•
4 Aug
yes i think its better that you made your own food if your not busy and you know its clean some restaurant is not really hygienic Not ALL but some


• Philippines
7 Aug
Wow. Very delicious to look at! I love to taste Japanese foods! I'm very curious bout the sushi and sashimi taste. Wish I could try some soon.


•
8 Aug
its so easy to made

and im sure thiers a lot of japanese restaurant in philippines

@renicemae
regarding in your question in your private messages you can find the answer here hope its help thank you


• Philippines
9 Aug
@kepweng
Yup. Been there and tried some Japanese foods but not sashimi

• Philippines
10 Aug
@kepweng
What kind of fish do you use when you make sashimi?

• Philippines
3 Aug
You changed your name but your username's still the same! I thought you were a guy because your first photo was and now it's a female and a MISS? You are making me confused.

•
4 Aug
i cannot change my username i cannot find in settings and i Dont want to tell what is my gender is. its like Same Any member here that are anoymous and you Dont know if thier are male ,female,gay,transwomen,transmen, young,kid,or adult,have dissabilities or not.even if you put a picture you dont know it its reall you i.hope you understand and its not a picture of real people its and anime Same what i saw here that they put cartoons or anime pictures i just Followed them ! and K is means kepweng Hope you understand

and im Very Sorry i Apologiized if your got confused.

• Philippines
7 Aug
@kepweng
You cannot change your username kepweng but you can change miss K. The first name you had wasn't Miss K and its as a photo of a man.

• Philippines
7 Aug
it looks like the ones served in high-end restaurants and hotels. how did you learn to make sushi and sashimi? are the ingredients expensive?

•
8 Aug
its so Easy to make sushi ,sashimi morew easy than making tempura, or other japanese foods cause its raw not fried or grilled

if you want to learn to make sushi or sashimi you can watch in youtube or you can buy a cook book not expensive nori wrapper is very cheap and its ingredients just a gluten sticky rice ,cucumber and tuna fish flakes thats eat and sashimi is just a fresh salmon not frozen just slice it and you ready to go hope its help and thank you for dropping i appreciated it by hope i can see you in my other discussion thanks