I Binge Eat! I Don't Overeat!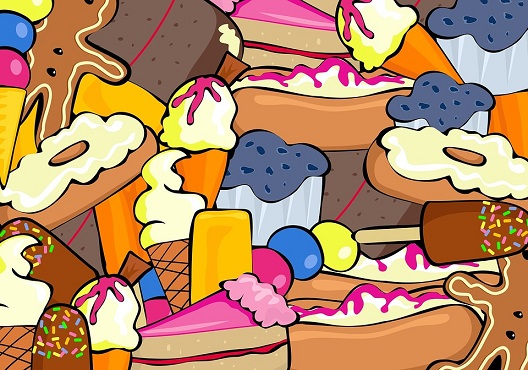 Austin, Texas
August 3, 2017 2:21pm CST
Watched the movie "Legal Eagles" (1986) which starred Robert Redford and Debra Winger. They were both lawyers working on a tough case. At one point it got really difficult for the character played by Ms. Winger and in this memorable scene that made me laugh, in order for her to think her way through to a legal solution, she was eating everything in her refrigerator – from chicken to ice cream.


Do you binge eat? I do.
I'm openly confessing that every once in a while, I raid my refrigerator and kitchen cabinets or food pantry; and eat whatever can be eaten, that doesn't require a lot of cooking. That includes warming up leftovers. Why?
It's a comfort thang!
For the record, 2 top foods on my binge eating list? Ice cream and pizza. Fortunately, I don't keep those two foods in my refrigerator for whenever I get in the mood to binge eat.

Also fortunate? Most of the time, if my husband and I put our heads together we can work through and solve most difficult problems we face.




Do you know the difference between binge eating and overeating? Learn more about binge eating disorder and learn the warning signs to look for.
6 responses

• Hong Kong
3 Aug
@cmoneyspinner
I watched that "Legal Eagles" before and not a bad movie.



• Austin, Texas
4 Aug
It was so cute! I really enjoyed it!


• Hong Kong
4 Aug
@cmoneyspinner
That's right especially if you are a fans of legal thriller my friend.


• Green Bay, Wisconsin
10 Aug
That does not sound healthy. I hope you don't do that too often.

• Austin, Texas
10 Aug
No I don't. It really only happens when I am having great difficulties. These days my life is calm and I pass my days quietly ... patiently waiting for Jesus to come!


• Green Bay, Wisconsin
10 Aug
@cmoneyspinner
Sometimes I'm a bit impatient about that, but hoping it will be soon. I'm glad it doesn't happen often.

• India
4 Aug
I do that too. Mostly around 11 and then again around 3 I Just feel I should much something.

• Austin, Texas
4 Aug
I don't have a particular time. I just get in a "mood".


• India
4 Aug
@cmoneyspinner
I control that mood as I would never want to skip my regular meals (lol)

• United States
3 Aug
I have a tendency to binge on sweet foods, if they are in the house, brought in by others and not me. I do not have sweets in the house to avoid my binging tendency. When I shop, I do not buy sweets, which takes some will power.

• Austin, Texas
4 Aug
My weakness is ice cream.

Because of my husband's change in diet, I usually only buy for the holidays or if I want to treat my daughter for being a good kid.


• United States
4 Aug
@cmoneyspinner
My weakness is ice cream too. I could finish an entire carton in one day's time. No ice cream can be in my freezer.


• Austin, Texas
22 Aug
I had to stop going to those all you can eat buffet restaurants. It was too hard to control myself! I had to run away from the temptation. In that case I would overeat!


• Riga, Latvia
3 Aug
Occasionally when I am thinking something over I tend to grab onto whatever I can find to eat and munch away until I come up with a solution. Other times I just get a craving for something and then I also eat whatever is on hand.

• Austin, Texas
4 Aug
If it's a problem that's really bringing me down, that's when I open the fridge and start staring at the contents. Gotta do something to make myself happy!