Two days in between........ a memory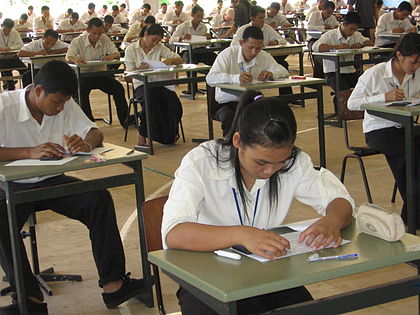 India
August 3, 2017 10:58pm CST
Be it school or college we students would breathe a sigh of relief when there was a two day gap between exams. The last minute mugging is what we did during these two days and were quite relaxed to give our exams hoping that we did not draw a blank after looking at the paper. Have you ever drawn a blank? This discussions was triggered by news that these days exams are held back to back. Anything you have to share.
10 responses

• Singapore
4 Aug
During an important exam I dozed off, in fact, I lost quite a chunk of time. The invigilator touched my shoulder and brought me back to harsh reality! I was rather naive and did not sleep properly the previous day. That proved a wake up call as I made sure that I would never be that foolish again. I did manage to pass the exam though - siva

• Roseburg, Oregon
4 Aug
Maybe the Teacher felt sorry for you and passed you anyway,

• India
4 Aug
Good that this experience helped you to be vigil in all further encounters with your exams.




• India
4 Aug
I do not know what is going on in India at the moment. Nothing is going right.

Did you see CRPF jawans accompanying IT raiders? What next? Is this a Hitler regime?

• India
4 Aug
@allknowing
Yes, YSRCP chief made a statement about killing the Chief Minister of Andhra Pradesh. There are many more things, don't even know where to begin

• India
5 Aug
@vsai2008
All this after Amit Shah took over.He is a criminal himself but he is well protected. I just cannot stand him. He is making full use of the powers and has pocketed the ED, the CBI and the Police. This is an extremely dangerous trend for the country.



• India
12 Aug
Does your prince charming watch Shin-chan?

• India
12 Aug
@silvermist
.. Yes..he watches that..how did you know? Blink..

• India
13 Aug
@vandana7
I usually watch some of these with my grandsons when they come on school holidays.


• Delhi, India
4 Aug
It was a big relief if there used to be gap between two exams. Back to Back exams could be very taxing and stressful. I remember in my class XII Board exams there were two back to back exams without even a single holiday. Next day when we discussed about preparation (before the beginning of exam), it came to our knowledge that there were some studious students who studied till wee hours to prepare for the exam and did not take a break while preparing for the exam, except dinner break.

• India
4 Aug
I wonder what the idea is to treat students like that


• Delhi, India
4 Aug
@allknowing
The one who prepare the date sheet for exams should be considerate enough so as to consider that students get 2-3 days holidays in between their final exams.


• India
7 Aug
Never heard of such students in my whole life


• United States
5 Aug
Nothing. Lol! Of course! Exams are scheduled by different teachers, different subjects, and different departments, all at the end of a semester. The students may or may not luck out by having more time to prepare, but a good student only needs a quick review.

• Genova, Italy
4 Aug
I do not remember ever delivering a blank. Only in middle school, math test, I can not remember what were the circumstances. However, in a white sheet, the teacher wrote to me "task is not done! Rating: severely inadequate!"


• French Polynesia
5 Aug
It was so long ago I was in school it is hard to say. I just remember cramming for one exam after another. I guess I had to cram more because the exames were in English and this was my second language.

•
4 Aug
I think at least a day gap should be there and not more then 2 days