Surfing The Waves of Life...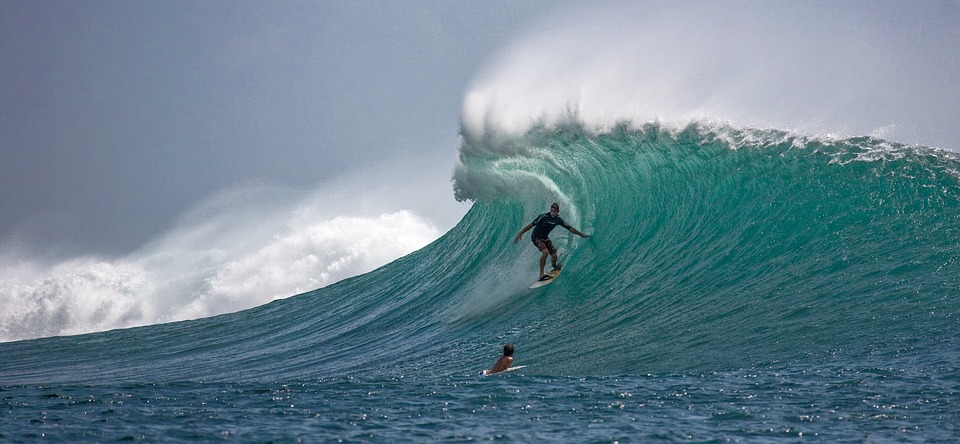 Hong Kong
August 4, 2017 4:49am CST
"Surfing is the act of riding a wave regardless of whether the wave is ridden with a board or without a board, and regardless of the stance used", says Wikipedia. Sometimes in our life we face so many big waves that we need to surf. I am always amaze everytime that I'm watching a surfer almost covered by big waves and yet coming out of it still standing, strong and surviving! Are there any big waves in your life right now? How are you surfing those big waves of life? Image source: pixabay
8 responses

•
4 Aug
Waves are good and helps us to not feel bored in life


• Hong Kong
4 Aug
@dollaboy
Yes we need waves sometimes in life my friend.



• United States
4 Aug
I wish that I done some.Now too old there to do it.

• Hong Kong
4 Aug
@amadeo
That alright my friend. And how's everything today?



• United States
4 Aug

•
29 Dec
I have a situation that I hope will be solved one way next week and then off it goes and hope that it went well. I hate when I have to hunt for people to help me when the ones that should will ignore me. I have no choice but to find others to help and have to pay them.

• Hong Kong
29 Dec
@Hannihar
I hope and pray that it will resolve in a very favorable outcome my friend. Good luck.



•
31 Dec
@mandala100
Peter, thank you very much. The person that told me about this person I am going to tomorrow put me and him in a bad situation because she left out the most important part and he told me I wasted his time. He was upset because he did not get an account so will charge me lots of money to do the form I need help with. I am just frustrated and then she did not read this other time right because I believe I figured it out but I will go and double check to make sure I am right.


• United States
6 Aug
Surfing through the waves of life. I like the metaphor. Well, sometimes, I felt like I'm getting caught in a rip tide. I struggle too much to fight against the strong currents. But later, I noticed that some struggles aren't worth struggling for. And Some good people made me strong and even opened my eyes to these realities. Swim to the side and swim back to the safe shore. Find other alternatives to solve the situation.

• Hong Kong
6 Aug
@Misty08
That's true my friend and your observation and comments really hits the mark.


• United States
6 Aug
@mandala100
hahaha. Thank you. Just petty observations I must say

• Hong Kong
6 Aug
@Misty08
No worries my friend and I'll see you soon.


• Philippines
4 Aug
such a nice wisdom of waves and our life.

• Hong Kong
4 Aug
@ilocosboy
Thank you my friend and I hope all of us can surf all the big waves of life.



• Philippines
5 Aug
Without the sharks and barracudas

• Hong Kong
5 Aug
@ilocosboy
Of course my friend otherwise you will be part of their belly my friend.



• Hong Kong
4 Aug
@Shavkat
That's right and maybe you are hoping that all the big waves will wash them away to the ocean!



• India
4 Aug
thats is true surfing are define our life who stand with bravely in the life those person are very succesfull in the life....



• Hong Kong
4 Aug
@gauti2483
You are right on this my friend.


• India
5 Aug
@mandala100
yes this line are totally fact my dear friend

• Hong Kong
5 Aug
@gauti2483
That's right my friend.


• United States
5 Aug
I loved playing in the waves at

the ocean.