Stupid YouTube spammers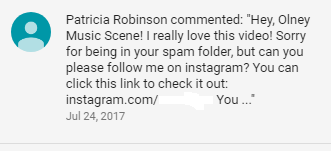 United States
August 5, 2017 1:58am CST
"I'm sorry for being in your Spam folder" I've gotten a comment with this in it on a few YouTube videos I have posted lately.

It comes from people wanting me to follow them on Instagram.

I just wanna say
You are NOT sorry for being in my Spam folder or you would not be spamming links on my videos.

It's rather stupid to tell me you are sorry for spamming.

And you KNOW you are spamming because you say "I'm sorry for this being in your Spam folder".

Like spamming me is going to make me want to 'follow' you on Instagram?

Farging dolts.

8 responses

• United States
5 Aug 17
I'm sorry to spam you here, but I just want to be everywhere you are and know all that there is to know about you. Oh, and for only $19.99, I have a pill that can enhance anything you ever want to enhance, and it will take care of the cat, too. And, if you were to send me $1999.00 via Western Union, I will deposit it in a safe account until the pills work. I promise.

• India
5 Aug 17
LOL..I am going to call somebody to read this ..
@TheHorse
...see what I meant ..you Americans are more likely to use words like Farging dolts..and frigging...and what nots..lol. Like...you all are all teens and you all have your own language kind of. :) Now coming to your spam
@JolietJake
... I thoroughly understand how you feel. But even worse is getting those phone calls. In a day I handle about 10 calls..there are a million times I have to tell me, I paid a decent sum of my hard earned money to buy me this piece and it does help me at times...but more often than not, it is for those callers. Can you believe me when I patiently tell a lady ..look this is the reason it is not good product for me, all logic clearly explained...she returns but it is a good product...many people are buying it...she is lucky I am not throwing the phone at her..damn it..I am working...kinda..

• United States
5 Aug 17
We wouldn't use "farging" or "frigging" if "f**king" was allowable. Some people will call things as they see them without the pretense of not wanting to offend. Language and thought is raw sometimes. And just like certain topics of conversation, there will always be some who will try to censor what the neighbors say and do.

• United States
5 Aug 17
Okay...I'm going to call it a night. I've already laid my heart out with a discussion tonight. I cannot handle any more emotional stuff tonight....from within or from outside my own world. Goodnight to all.

• Hong Kong
5 Aug 17
@JolietJake
That's a good one my friend.


• Boise, Idaho
6 Aug 17
I think that some of these younger folk has an obsession with having the most friends on their profiles. It is weirid to me.




• Philippines
6 Aug 17
The only spam I want is the one with less sodium!

Did you ever check out their profiles in Instagram though?