21st Century Addiction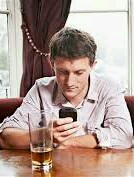 Nigeria
August 5, 2017 11:57am CST
I saw one of my pals romancing his phone for the past 4 hours though he has important chores to do. I did some cool naggings so that he would leave the phone for a moment, but he did not budge to them. Then I was wondering whether he's actions is good or bad especially to his future. I've been unable to get the right answer. What do my fellow mylotees think this would results to him as an individual and to the world as a whole.
3 responses

• United States
5 Aug 17
Smartphones have pretty much taken over society, at least here in the States. Just yesterday I was grocery shopping and a woman in front of me was hunched over her cart and did not move for a long time. I made my choices and as she was blocking the aisle I put my hand on her shoulder and asked her if she was alright. She was startled and straightened up and then I saw the phone in her hand. Assuring me she was okay, she moved her cart aside and went back to her phone! A lot of people are missing out on life. They are recording their lives instead of living them, taking selfies instead of enjoying the moment, shooing their children away while they text or do social media. Life is passing them by as they spend their time hypnotized by their phones.

• Nigeria
5 Aug 17
And I think this is wasting people's time away seriously


• Los Angeles, California
5 Aug 17
Cell use and texting is becoming an obsessive sickness in society. Look at people constantly checking every two seconds even to the point of rudeness at the dinner table.

• Nigeria
5 Aug 17
Lol... Looks funny but serious