What is the most important in life?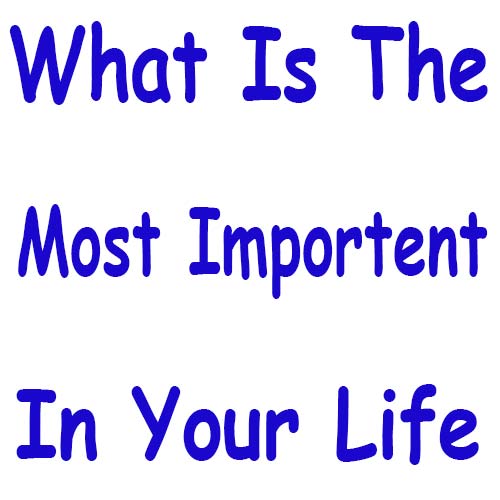 August 6, 2017 7:35am CST
5 importent reason In our lives have top priority, Number 1 - Career. Number 2 - Reletionship. Number 3 - Money Number 4 - Fame Number 5 - Helth These issues come from any corner of life, our life is main target. but It's good to say The main problem becomes. what is the most importent think? and What should be the target of human beings? Career, Reletionship , Money , Fame , or Helth ? when Usually a person commits suicide. When he is understand he is stuck in a deadly pain , There is no way. and This problem gives him constant pain. But there are all have solution the problems in the world. Just because of some wrong thinking, people commit suicide. In some cases , such us , suddenly Any best relationship lost , news of dead of any best friend, Generally , Deep Relationship and Mental helth main reason for suicide. If this 2 thing is okay , Then our mind will be good , so its 2 reason always need top priotity. Remember , You are very successful in the future and you do job biggest one company , Pay is good , But in that company many politics & corruption. this problem effect to get your peace of mind. Sometimes you want it All went away and left. Then this time ,Will you be happy? Office tention problem get effect reletionship ,then start mind pain , then slowly slowly you can not care your body , Then there will be many problems in your body. Imagine on the other hand , you have good family. Everyone loves everyone very much , everyone care everyone. Rmember , your family income source only you ,but you don't have permanet job. all family member basic need To for fill , As much you need money, but you don't have minimum money. then this time ,Will you be happy? Can not do this. so everything is importent in it's place , but many things have main central point. That's it - Peace Of Mind - when This ok then Everything will be peacefull and , when This is lost, then , Everything will be Disturbed. so everybody must need always fresh and peacefull mind. For that , you need any action s according to it. world best topic , " There is no greater wealth in this world then the peace of mind " and i hope everybody understand my own idea and topic..thanks.
2 responses


•
7 Aug 17
yeah, you are saying the main point, always all people need a peaceful mind.

• Palisade, Colorado
7 Aug 17


• Waikoloa, Hawaii
6 Aug 17
all you mention is important in life you cannot live if one of those is missing