Miss Kai Is Growing Up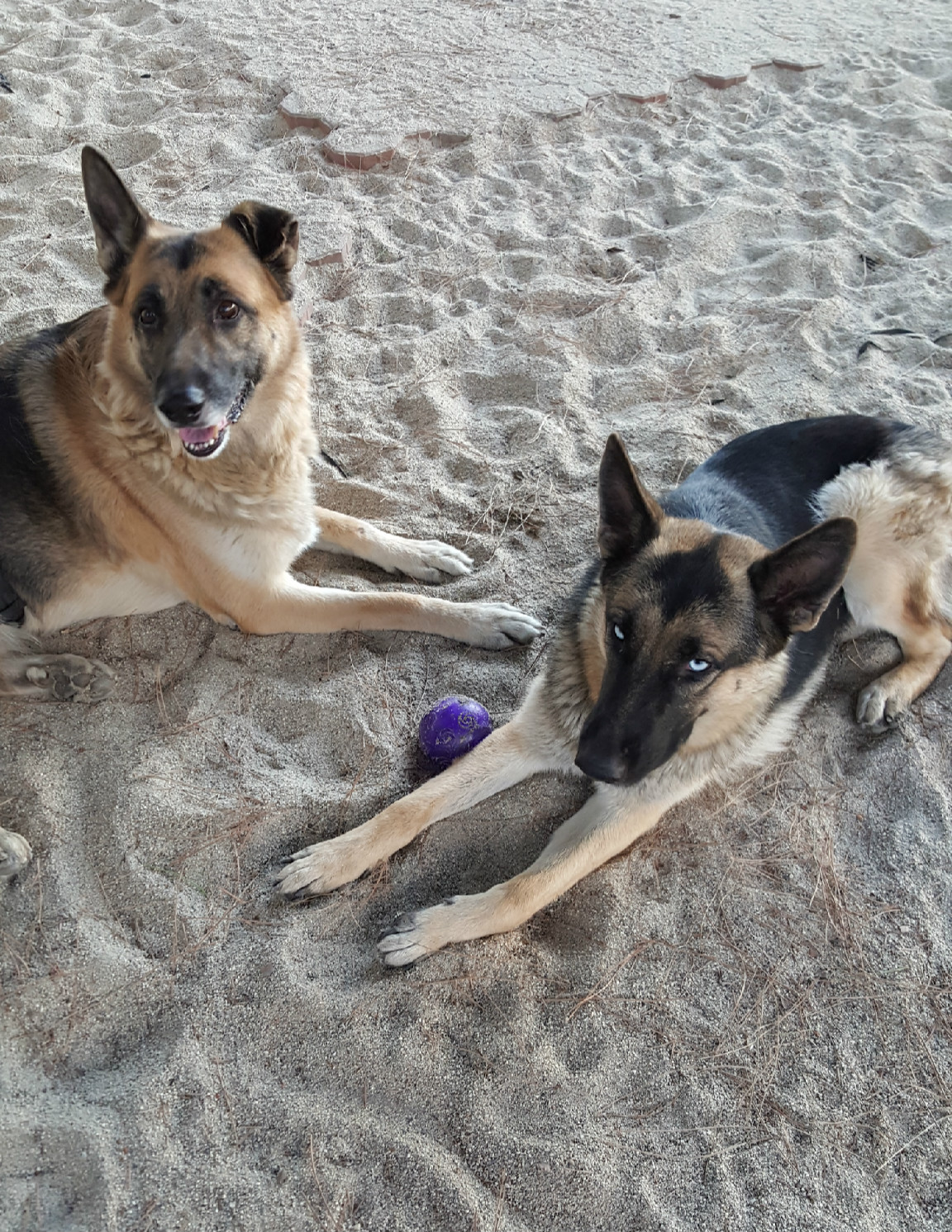 Redlands, California
August 6, 2017 9:11am CST
This was a new experience. I do not recommend you try this at home. My sister and I have been noticing she is starting to act more like Tristan every day. Since we got her she has always seemed not as mature as Brooklyn. She is starting to do things he used to do. Instead of poking you in the ribs the way Brooklyn does, She goes right for the arm pit and lifts your arm, just like Tristan used to do. She lays in the front in the exact spot Tristan used to, in the same fashion. Her personality is really shining through and she acts just like him. German Shepherd thing for sure, but so ironic how you accidentally call her Tristan. That is how close she has been behaving like him. This morning I saw a side of her I have never seen before. Tristan was a bad boy where you knew not to press his buttons. Kai is sweet and never had to worry. This morning sister gives both dogs a treat. Apparently, some kind of game was formed between the two dogs and my sister,. They were all having fun. I was down here probably on Mylot pissing all you off. Kai comes running down like a bat out of hell. Lays on my bed and just searches the room as if there is dangerous things out to get her. I thought she just wanted to play and brought a toy with her. No, that was a treat and she was waiting for Brooklyn to come finish the game. Brooklyn has definitely been off her game lately. Fire works threw her for a loop. I knew she was not coming down here if Kai was in that type of mode. I figured I would finish the game. Go to grab her treat. She gets defensive. Like almost ready to bite me. One thing about dogs is never let them be aggressive about food or treats. I need to see if she would bite me because we have a problem. She does not, but tell you what, she had me scared. I do it again and she is not happy about it. I tell her to eat it or we will have problems. This was scarier than even Tristan because that dude trusted me so much he sometimes would leave his treat by my pillow. I would wake up and big bone, raw hide or biscuit, it would be there, as to say, have some breakfast. Cute, but smells bad. Kai and I are not at that level yet and for the first time her true nature is coming out. She is home.
9 responses

• Switzerland
6 Aug 17
@TiarasOceanView
is right this is a German Shepherd thing, they can become aggressive for no evident reason, but they usually never hurt their owner and friends.

• Redlands, California
6 Aug 17
Oh yeah, Tristan, was always scared for other people, never me. Even though he nipped on the face, but I was being a jerk and deserved that.Kai so far, have nothing to worry about. She is a gentle sole, but might want to make sure no food is around if people are around. That is when she is not a gentle sole anymore. She was a bag of bones when we got her from the pound, so think something implemented in her brain with food and she is going to get hers.

• Switzerland
6 Aug 17
@crossbones27
Poor Kai, it is very possible that she has a problem with food because she had not enough food to eat in the past.


• United States
6 Aug 17
That is something that she is getting like Tristan a lot now, but yeah it is the German Shepherd thing I guess. Yeah you are good to keep that in check about the aggression with food or treats.

• Redlands, California
6 Aug 17
I always like how they teach you something and keep you on your toes if you listen anyway. Many do not and that is were dogs become homeless.

• United States
6 Aug 17
@crossbones27
Yes thats true, sometimes people don´t know about the dogs they have and as a result put them on the street..so bad.

• Redlands, California
7 Aug 17

•
6 Aug 17
That's nice. Enjoy your Sunday

• Redlands, California
6 Aug 17

• Colorado Springs, Colorado
6 Aug 17
Sounds like she has adapted. Great photo of the two of them.

• Redlands, California
6 Aug 17
Yeah, can tell she was so uncomfortable with him and was not a cooties thing. Think he bit her head off not to long before that photo. That is what that was. He could not walk so was not that bad, but dude had a presence indeed. I would look like that if I was on his bad side.


• Philippines
6 Aug 17
Those are really cute dogs, I have seen one and it's big..I have only one dog now.

• Redlands, California
6 Aug 17
Thanks buddy and sorry for your loss, the big guy with a messed up ear is no longer with us either. Sucks when they leave.

• Tucson, Arizona
6 Aug 17
they are two very nice looking dogs


• Redlands, California
8 Aug 17
Always, and no matter what the owner says, Can usually tell right away. They definitely move a touch slower because they are strangers. That being they have good owners and telling them to behave, but there is this fluidity where the dog is just happy someone new is visiting and potential new friend which is more treats for them. It is a bit weird, but when you can read it, so fun to see dogs for who they are.


• Redlands, California
7 Aug 17
Haha, finally someone noticed. As I said down below, believe he bit her head off before this picture was taken. Why she looks so uncomfortable. He was a big meanie and hated other dogs. She was the only one he allowed to go into my sisters room and lay down though. He did not get mad, in fact, was quite happy to see her when we first got her. You knew he liked her, but his ways eventually did set in. This is my house.

• Roseburg, Oregon
7 Aug 17
German Shepherd are the best breed and they are smart dogs to.

• Redlands, California
7 Aug 17
I agree, am in love with the breed and you are right. So smart. She has been hanging with me a lot lately for some reason. She is actually sleeping at my feet right now, say Hi.