Queen of Sheba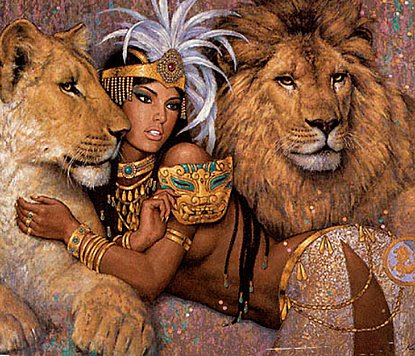 Daytona Beach, Florida
August 7, 2017 12:19pm CST
Many years ago when I was still living in New York City and I was young and full of the joy of life I had a tendency to call myself the Queen of Sheba. I had no idea if there had ever been such a queen and it was the days before the Internet. I also never checked it out at the library but I loved referring to myself this way. When I set up one of my emails I even used Queen of Sheba as part of the address. Anyway let's look at her life. This queen has been referred to in religious texts that are sacred to Christians, Jewish, and Muslims. In the Bible she is described as the Queen of the East. Those who have looked into her life believe that she came from the Kingdom of Axum in Ethiopia or the Kingdom of Sabia in Yemen or a combination of both. When she brought gifts she brought bales of incense and Frankincense grow in both of these areas. Both countries say the Queen of Sheba was theirs. It is said that the Queen of Sheba was a seeker of truth and wisdom. She had heard that King Solomon of Israel was a very wise man. The queen traveled on camel to Jerusalem to meet the king and put his knowledge to the test with riddles and questions. As gifts she brought frankincense, myrrh, gold and precious jewels. King Solomon had heard of the Queen of Sheba and her great kingdom. He also heard that she was born with a very unusual feature – her left foot was cloven like that of a goat and hairy. To find out if this is true he had the floor of his court polished until it shone like glass. When the queen walked across the floor, the king could see the reflection of her cloven foot. The right in front of his eyes the foot transformed and became normal. The Queen of Sheba put King Solomon to the test and was satisfied with his knowledge. In turn he taught her about his god Yahweh and she became a follower. She agreed to stay with the king as a guest. She told the king not to touch her and he replied that then she should not take anything that belonged to him. During the first night the queen was thirsty and took a glass of water. He then confronted her and told her that she had broken her agreement so she should release him from his. Together they spent the night and she returned to her kingdom and discovered that she was pregnant. The Queen of Sheba raised her son Menelik on her own and when he was grown he wanted to meet his father. So Menelik traveled to Israel to meet King Solomon. When he returned he brought with him the Ark of the Covenant, the sacred container that contained the Ten Commandments. Legend has it that the Ark forever remained in Ethiopia and Ethiopians looked upon Menelik as the first in an unbroken line of Ethiopian kings that stretched into the 20th century. Photo of Queen of Sheba http://www.pbs.org/mythsandheroes/myths_four_sheba.html
3 responses

• United States
7 Aug 17
Well, you certainly picked the name of a very remarkable woman to call yourself!!

• Daytona Beach, Florida
8 Aug 17
Yes, and it still makes me wonder why because the name came to me just out of the blue but I like the sound of Queen of Sheba
@Corbin5
who knew she really existed. Imagine how much knowledge we all could have gained if the Internet had been around all the time from the 20th century




• United States
8 Aug 17
@RasmaSandra
I know that back in the day, my mom used to say about someone who thought too highly of themselves, "Who does she think she is, the Queen of Sheba?" Now, that was a memory inspired by your post.

• Daytona Beach, Florida
8 Aug 17
@Corbin5
she was either referring to the real queen or to me



but interesting that your mom also mentioned the Queen of Sheba.


• Rochester, New York
7 Aug 17
I love this story, thank you for sharing it with us.