Why there are no calls to Review on Humanatic?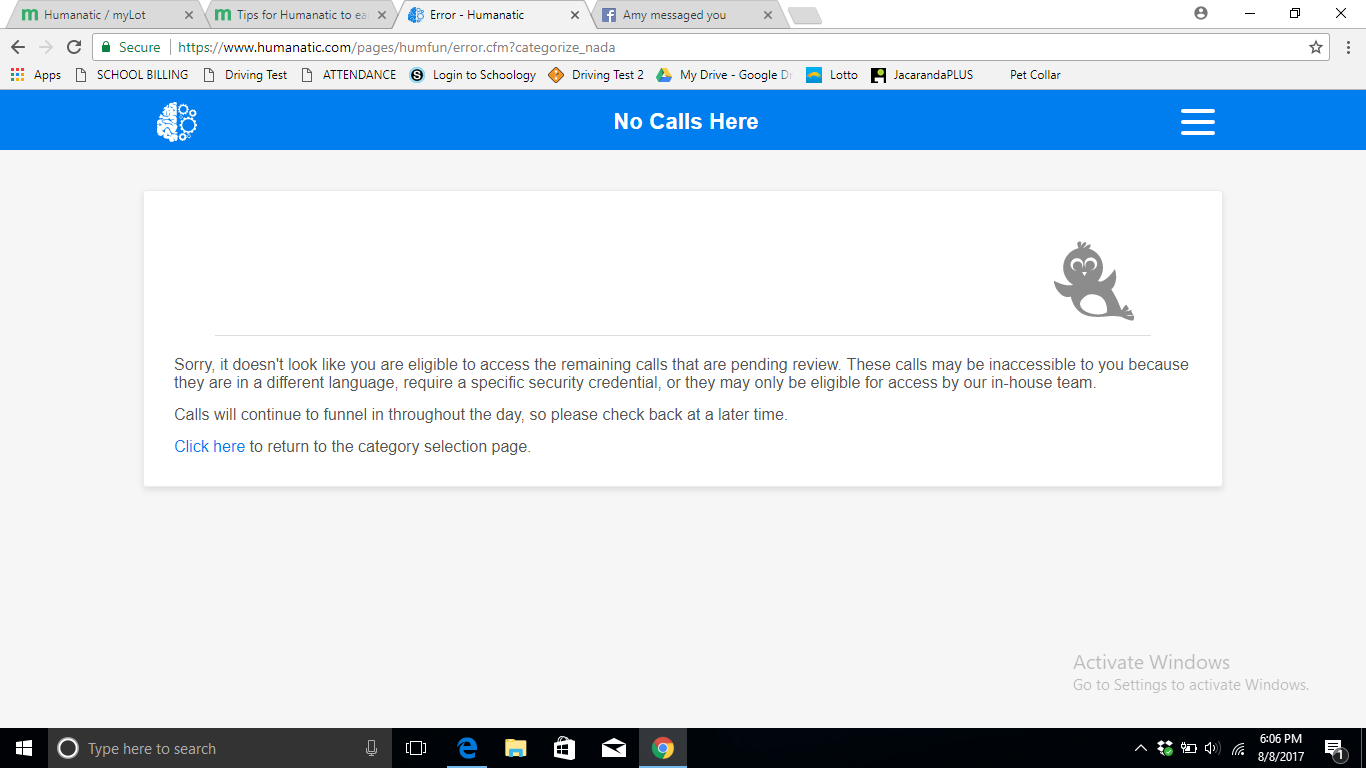 Australia
August 8, 2017 5:15am CST
Hi. I just joined Humanatic and received an email that my application had been approved. When I clicked on the Category it says 7,436 calls available but when I clicked it, this is what it says: "Sorry it doesn't look like you are eligible to access the remaining calls that are pending review. These calls may be inaccessible to you because they are in different language, require a specific security credential, or they may only be eligible for access by our in-house team" Why is it doing that?
6 responses

•
8 Aug
I don't know but i guess you may need to pass a certain level to access those.

• Australia
8 Aug
How can I pass when I can't access any calls?

•
8 Aug
@angelmels
I told you already that I don't know much about it but i have a friend who can help you, as he's doing well on humanatic and get payment of more then 30 dollars recently


• Calgary, Alberta
8 Aug
The calls are available for Asians and Australians during 12:00 in the evening.

• Australia
8 Aug
I was able to review some calls. I think the problem was I put my wrong country, so when I changed it, waited for an hour then there were calls. So maybe just have to wait again.

• Calgary, Alberta
8 Aug
@angelmels
Also there are rarely calls during sunday and monday. During those days I work somewhere else instead.

•
8 Aug
I think the message itself explained that to you.

• Australia
8 Aug
It seems impossible saying 7,436 calls available and not even 1 English call? so I reckon there must be some error.

•
8 Aug
@angelmels
the message says it can be other factors, like server maintenance. Clear your cookies and cache and check back later. Check your account settings too.

• India
8 Aug
it's nice to serve the people and earn money around

• Philippines
8 Aug
I had been trying to appl at humanatics but it said that my paypal must be verified and the problem is Idont know how to do it!

• Australia
8 Aug
You just need to create a paypal account and link your bank account.