How can we can increase our typing speed?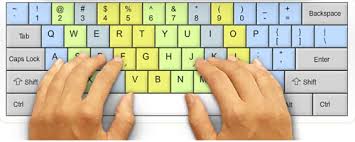 Canada
5 responses

• Italy
11 Aug
There are programs, even online, for practicing typing. However, I think the best thing to do is to type as often as you can. I didn't use any of those softwares, I just typed when I needed (a lot). How come there are times you don't type for a long time? I didn't know the typing speed could decrease with time, I thought all you needed to learn is where the keys are placed on the keyboard, and as long as you're a touch typist, you're also a fast typist. And yeah, you need to use all 10 fingers. But that came naturally to me, no big science behind that.


• Canada
12 Aug
I use all ten fingers and my typing speed is quite good but after some days it's gets slow dramatically. What should i use to maintain the typing speed?

• Italy
12 Aug
@studylove
A computer keyboard. I mean, there aren't activities that are close to typing on a keyboard, so all you can do is to type on a keyboard.

Unless you're a programmer and plan to code all day, if you need to type normal texts, myLot on a daily basis can be a good exercise. You can write online, but also offline, when I was younger (like a school child, really) I used to write stories and poetries on the computer. They were baaad, but they improved my speed with time. You have to type daily, even for ten minutes before going to sleep if you had no time all day, to not lose the hang of it.

• Italy
13 Aug
@studylove
I used to copy from textbooks at school, we had to copy pages and also learn to format them. I don't know if that improved my speed though, sure thing I had something to type all the time.


• Haldwani, India
12 Aug
Typing master can be used to increase your typing speed ! !! I have an average of 30 -32 wpm speed

• Canada
12 Aug
How do you maintain your typing speed? and if it gets decreased after some time then you increase it?

• Haldwani, India
12 Aug
@studylove
it remains same !! If I don't do but if will regular practice the. Easily I can manage to have 35 - 36 wpm

• Canada
13 Aug
@mohit459
I also worked hard to manage my typing speed.


•
11 Aug
Just practice everyday sooner or later you can do it ! Like me

• Canada
12 Aug
How many hours do you practice typing on keyboard?

• Canada
12 Aug
How many hours of the day would you recommend to increase typing speed?

• Malaysia
13 Aug
@studylove
as many as you can, if you wanted to be typist, or something required as a fast typer; for me.

•
26 Feb
By getting a typing book or something to practice on and continue to do that and then you can increase your speed.