Superman: The Man of Steel First Public Appearance!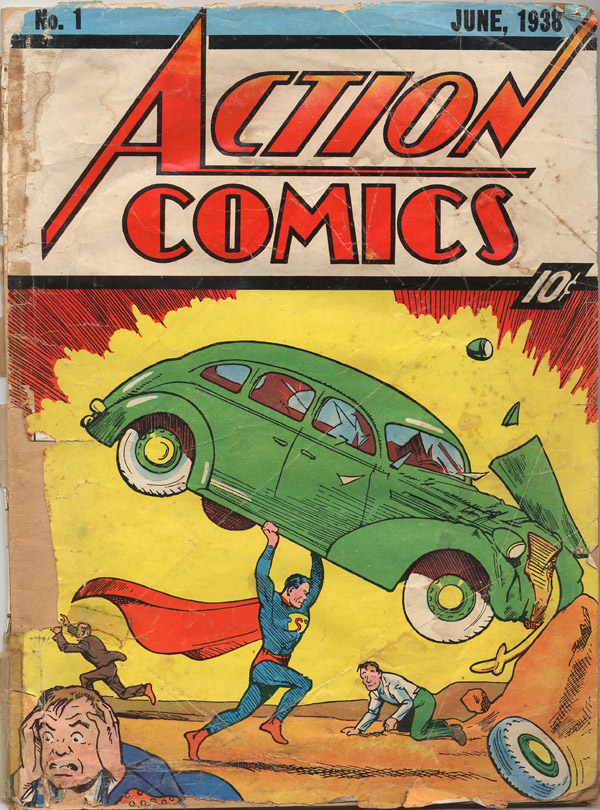 Hong Kong
August 11, 2017 8:51pm CST
Superman "The Man Of Steel" has first come to the public mind and consciousness on June 1938 with the first issue of Action Comics#1 in the above picture. Superman was the creation of the writer Jerry Siegel (October 17, 1914-January 28, 1996) and artist Joseph "Joe" Shuster ( July 10, 1914-July 30, 1992). Superman is almost 79 years old and has come a long long way and truly of American creation. How many of you still remember reading Action Comics/DC Comics about the Man of Steel? Is Superman a truly American comics icon? Is Superman still relevant in the Computer Age? Wiki consulted on the information Image source: autodo.info
8 responses

•
12 Aug 17
What makes me wonder up to this date, is why his briefs are outside his suit? Don't get me wrong, I love superman! It's just that this question has been in my mind for a long time now. Does anyone here know?

• Hong Kong
12 Aug 17
@JeeyanDee
Not only Superman my friend but even Batman, Robin and Wonderwoman wear their undies the reverse.


• Hong Kong
12 Aug 17
@JeeyanDee
Seriously this is the answer I got from Quora about your question my friend: under the title "Why does Superman wear his underwear on the outside?" "In the 1940s, superheroes such as Batman and Superman and their Justice Society Contemporaries Hawkman, The Spectre, and Dr. Fate wore their underwear on the outside for a different reason. The connotation in that era was not bad fashion sense but related to old time strongmen, wrestlers and acrobats, many of whom were well known for putting on shows for the public. Rather what was implied in the visual iconography of the underoos on the outside was pure physical strength and athleticism above the average mortal." I hope that answer your query my friend.


•
12 Aug 17
@mandala100
Oh ok. Hahaha. Well now I know. Did the creation of superman start that trend?


• Philippines
12 Aug 17
Not really into comics but who doesn't love superman? I think superman is still relevant nowadays. He's the epitome of superheroes.

• Hong Kong
12 Aug 17
@toniganzon
I agree with you my friend.


• United States
12 Aug 17
I never read the comic but I have seen all the movies.

• Hong Kong
12 Aug 17
@andriaperry
That's great my friend and what's your favorite Superman movies my friend?



• Hong Kong
12 Aug 17
@holdoors
I absolutely agree with you my friend.


• Rochester, New York
12 Aug 17
I was never really into the Man of Steel to be honest. I was more of a X-Men gal! I love Wolverine!

• Hong Kong
12 Aug 17
@LizaSteinmetz
That's ok my friend. X-Men are also good and Wolverine is great too my friend.


• Banks, Oregon
12 Aug 17
Wish I had that comic, it's very valuable and, also a huge Superman fan.

• Hong Kong
12 Aug 17
@TRBRocks420
Yes my friend and I think that a copy of that first Action Comics was sold on August 24, 2014 on eBay for US$3,207,852. according to Wiki if I'm not mistaken my friend.



• Philippines
12 Aug 17
I don't read DC comics but I find it fascinating.

• Hong Kong
12 Aug 17
@jobeljobel
That's good to know my friend and what do you read then my friend?


• Los Angeles, California
12 Aug 17
Superman is still very relevant in pop culture because they keep making new movies!

• Hong Kong
12 Aug 17
@JohnRoberts
That's true my friend John.