Favorite Tropical Birds # 3- The Tunki.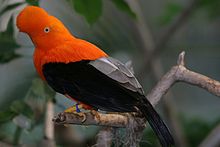 Banks, Oregon
August 11, 2017 11:21pm CST
Coming in at # 3 on my favorite tropical birds series is the Andean Cock of the Rock, also known as the Tunki, they are the national Bird of Peru and, can mostly be found in the cloud forest of the Andes mountains, they eat fruit, insects, amphibians, reptiles and, mice. Another interesting note is they get about 13 inches in length and, the males are show offs, always putting on extravagant displays for females, they have nothing to do with nesting duties or the babies though. Some information verified at Wikipedia. Photo is from Wikipedia, it's the Tunki.
6 responses

• United States
12 Aug
I have never seen this beautiful orange bird before. It's lovely and thats surprisingly they eat reptiles, mice??

• Banks, Oregon
12 Aug
Yes very pretty color and, probably only little ones.

• United States
12 Aug
@TRBRocks420
Yes, I love the vibrant feathers/color. Yeah, maybe but that's interesting!

• Green Bay, Wisconsin
15 Aug
A love em and leave em bird, eh? Interesting coloring. You'd be able to pick that bird out in a crowd with its distinctive coloring.

• Banks, Oregon
15 Aug
That's the main reason I put him so high, because very unique.

• Colorado Springs, Colorado
12 Aug
Are they all black and orange? Looks cool.

• Banks, Oregon
12 Aug
Yeah, I think all black with the orange face and, crown.

• United States
12 Aug
Odd looking bird but pretty.

• Banks, Oregon
12 Aug
I agree they are pretty odd looking, but also beautiful colors.

• Roseburg, Oregon
12 Aug
Another vvery pretty tropical bird. The Tunki is a very pretty bird.