Touring the United States - Maryland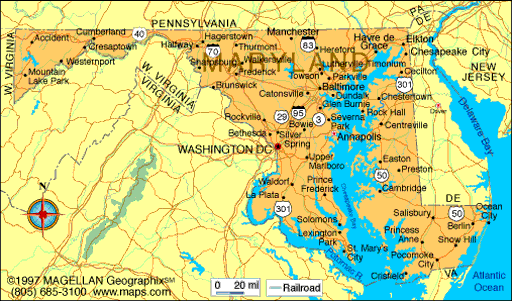 United States
August 13, 2017 8:55am CST
This is a stupid story. When I was 16 or 17, me and my 20 year old brother took a road trip and drove from Louisville, KY to Washington, DC, then to Williamsburg, VA, then to Myrtle Beach, SC. We left at night to avoid traffic and had been on the road many hours and were getting sleepy on the way to D.C., so my brother realizes we're driving through Maryland and rolls the windows down and says, "Stick your head out in Maryland" so we could get some fresh air and wake up. Like I said, stupid story, but we still say it to each other sometimes 40 years later and laugh about it. Maryland is considered a Mid-Atlantic state bordering Virginia, West Virginia, Washington, D.C., Pennsylvania and Delaware. Although the capital is Annapolis, the largest city in Maryland is Baltimore. The United States Naval Academy was founded in 1845 at Annapolis.The state is named after the English queen Henrietta Maria of France. Six million people live in Maryland. SPORTS: Baltimore Orioles (baseball), Baltimore Ravens (football), Washington Redskins (football) TRIVIA: - The first school in the United States was opened in Maryland in 1696 - Baseball legend Babe Ruth was born in Maryland (Baltimore) - Maryland was first to enact Workmen's compensation laws in 1902 - Sixteen of the 23 Maryland counties border on tidal water. The combined length of tidal shoreline, including islands, is 4,431 miles.

Okay, this is the first state we've talked about that's in the 'New England' part of the United States. Its capital is Augusta. It is bordered by New Hampshire...
3 responses

• United States
13 Aug
My husband took me to Baltimore for a weekend away during one of the first months we were dating. It was so romantic! We stayed at the Hyatt right at the Inner Harbor, had fancy dinners, a gorgeous brunch, went to the aquarium, it was a great weekend.

• United States
13 Aug
Of course you like it, it's on the ocean!


• Lakewood, Colorado
13 Aug
This is the state I was born Lori. I wish we had never left it.

• Los Angeles, California
13 Aug
Another state I have never been to. F. Scott Fitzgerald is buried outside of Baltimore.