Turning Lies to Leis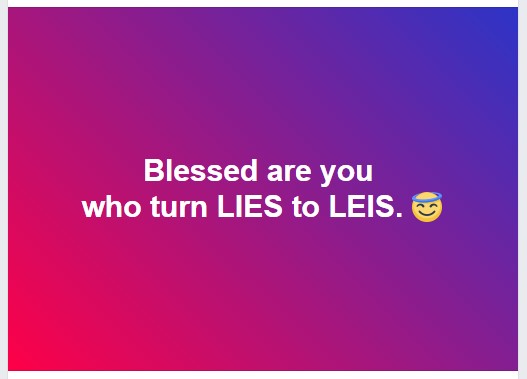 Philippines
August 16, 2017 11:34am CST
This could be a terrible challenge for everyone of us especially those who are a hardened liars. They set a voluminous records of lying. Nobody could believe them if they do telling the truth. Are you not reminded of the children's story of the boy who cries wolf. Because of his attitude of telling a lie, the people in the village won't believe him anynore even he is telling the truth. He had fooled the people several times and the alert people responded right away. He used to make fun of those people. But he had his own turn not to be believed anymore though his sheeps were being attacked and devoured by the wolf. So he was sorry. But there is still a big chance for him to turn those lies to leis. What I mean here of "lies to leis" is those misdeeds could be remedied and could be worth emulated. Lies are misleading, the untruth. Leis are tokens or symbols of respect, recognition, honor and accomplishment. Do you know any person who has changed his bad attitude and he became the good example to others? The secret of this challenge is repentance to recovery. What do you think?
4 responses

• French Polynesia
16 Aug 17
Man, you know my sister. In her case things will never change. I don't know anyone who has changed a bad habit such as this. It is really hard to turn these people around.

• French Polynesia
18 Aug 17
@dodoazo
My sister has gotten away with it way too long and I really don't think she will ever change. I haven't had any contact with her in so many years because of her issues.


• Green Bay, Wisconsin
16 Aug 17
I don't know anyone who changed their bad habit of lying. It would be nice if they would.


• Hong Kong
16 Aug 17
@dodoazo
It also reminds us of the story of Pinocchio my friend and it's moral story.



• Hong Kong
17 Aug 17
@dodoazo
That's right my friend.


• Philippines
17 Aug 17
@mandala100
It perks me up. Thanks for that moral support that there could be a chance for them to get even or do away with.



• Philippines
16 Aug 17
I haven't found a person who has changed 360 degrees yet especially the liars. But it would be nice to find one.

• Philippines
17 Aug 17

• Philippines
17 Aug 17
@toniganzon
That is correct. A person who gains the respect of others is a person who has the peace of mind and has the integrity.