Can't Wait!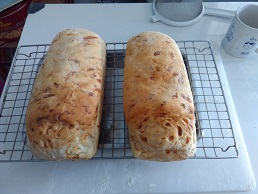 Thailand
August 17, 2017 2:52am CST
The more I think of it, the more I want to start baking again! Even before I sold my ancient stove I was extremely limited in what I could bake because it was either too cold or too hot. Regardless of the setting, it only did what it wanted to! Now I am only about 20 days away from buying a convection oven (tired of playing with gas) and can start doing confections and my favorite breads!
9 responses


• Thailand
18 Aug 17
Too bad there is about 8000 miles between us or you would have a sale!

• Palisade, Colorado
18 Aug 17
@jaideemai
Shucks! It is in great shape and works good. I just don't have room for it anymore.

•
17 Aug 17
I want to bake a cake, not only cake but also other bread. I love baking too much. If you don't mind can I ask for help

• Thailand
18 Aug 17
LOL, nothing more fun than learning new skills on the internet!

• Haldwani, India
17 Aug 17
Hope you will buy it soon!! Don't forget to bake for me!!

• Thailand
18 Aug 17
Not a problem....but you have to come here to get it!

• Philippines
18 Aug 17
I hope you get to bake all those goodies soon. I used to have an oven and would bake cookies and cake for the fambam. We moved from place to place and I have only just recently bought a house. I do plan to buy an oven so I can start doing this again. I'll just need to save up a bit to buy a nice stove. Can't wait as well!


• Thailand
18 Aug 17
There are so many simple recipes on the internet. The hardest part is learning how to knead the dough, but after awhile it will become natural!

•
17 Aug 17
LOL, talking to us, make you miss the cooking heh?

• Thailand
18 Aug 17
Yes, for sure! But it won't be long before I am playing with my food again! lol

• Japan
17 Aug 17
I think that's great. Seriously, convection ovens are good. Just remember that it will take less time in a convection oven than in a conventional oven, so be sure you don't burn your first cake.

• Thailand
17 Aug 17
Thank you! You are so fast...I think you got my post before I could put a picture up!

• United States
17 Aug 17
I will be so pleased for you friend.

• Nigeria
17 Aug 17
You must have been fed up of that stove.