To Waste or Not to Waste: That's the Question!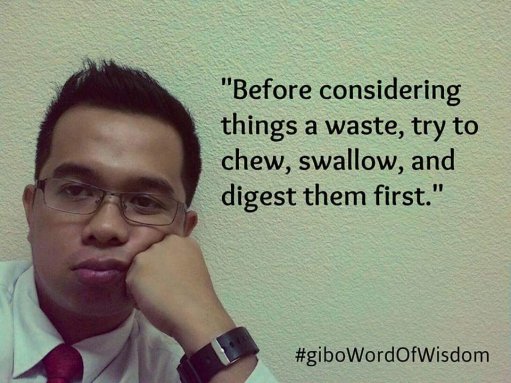 Philippines
August 17, 2017 3:58am CST
I want to contemplate in one of my youngest son's words of wisdom, particularly on leaving things to waste. I'm a kind of person who does things in a hurry especially to beat the deadline. Lest, I came up with inferior work or incomplete supporting documents. It's properly substantiated. That's a waste! My son's wisdom gives me a better insight on different point of view before discarding things. If we just dispose something right away we would regret that it could be reused. Thus we could save money, time and efforts in so doing. The point is conservatism. How do you diffrentiate the two ideas on waste? Image is mine.
5 responses

• Philippines
17 Aug 17
To me, it means that before we finally judge something as waste, be sure that it will be of no more use to anyone in the house anymore. Sometimes, a thing we consider a waste and thus for disposal can be useful to another in our household. So, before disposing of something it would be better to ask everyone in the house if they have a need for it yet.

• Philippines
18 Aug 17
@dodoazo
You can discard the olds ones, so you can make way for new ones again.

• Philippines
17 Aug 17
But there's a point we can't just keep them. My was a hoarder and kept a lot of things that turned our house into a Junk shop. But we did benefit by selling the junk, there's just another set of junk here.

• French Polynesia
18 Aug 17
My boyfriend won't throw anything away and so many times it has come in so handly. I get angry with him, but at times I am glad he doesn't throw things away.

• Philippines
17 Aug 17
The more you try to think which one is a waste and which one isn't, the more you will keep the trash! I have read somewhere, in order to stay organize, dispose the old. Somebody else could recycle it for you instead.

• Waikoloa, Hawaii
17 Aug 17
we can have both choice everyday in life you already said just choice which is better