Got only one lousy Jackpot!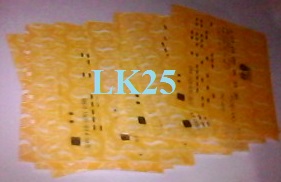 Philippines
August 17, 2017 6:40am CST
When ever I play the lottery I didn't bother to look at the ticket whether I have won or not. Because I usually don't get all the numbers. But today after three months of betting on the Lottery, I've checked them all one by one. With all of that I only got one win ticket, but with only three matching numbers. Your supposed to get all six to win the jackpot or five to get the next best thing. Maybe for the next three months I might choose to save 20Php (half a dollar) instead of spending it on the lottery. The saved money could be useful someday. Then again, I'm not good with saving, specially if it's something near my hands

Maybe Lottery isn't for me anymore or I have missed my chance about winning because I kept changing my numbers. Or numbers come out when you don't bet.
9 responses

• Philippines
17 Aug
Three months are more then enough to learn the good and bad effect of lottery betting. Any game of chance has a very little chance of winning,.Think of the probability of winning of several number combinations. For example in three-digit number, how many combinations are there? There are six combinations or more. In six-digit number, how many? There are 13,983,816. So you are one of those more than thirteen bettors in lottery to win. When is it?

• Philippines
17 Aug
I just bet one ticket per day
@dodoazo
I used to bet more but I realized after seeing my past betting numbers that I have lost my chance.

• Philippines
17 Aug
@Letranknight2015
that's already a waste of money, if you don't mind when you bet daily for 3 months. It's good thst you've realized it and quit for good.


• Philippines
17 Aug
@dodoazo
I had my chance. Maybe i's more dangerous to win now because of what's going on to our country.


• United States
17 Aug
I never give up on the lottery..there is always a chance. Good luck.

• Philippines
17 Aug
So, you bet there too
@TiarasOceanView
it's more expensive there but good as well.

• United States
17 Aug

• Philippines
18 Aug
@TiarasOceanView
that's two lottery ticket here




• Germany
17 Aug
I used to play lottery atleast 2 times a month when I was still working..There is no harm in trying


Even if I do not win..I just think that I helped some poor people who receives charity from lotto foundations



• Philippines
17 Aug
But I wonder if the charity institution is giving it to the poor
@m_audrey6788
there was some news about alleged corruption here but it was never proven

• Germany
17 Aug
@Letranknight2015


..Gosh..Oh well..in the eyes of God I am helping some poor kids..It is them who stole it from the poor kids


• Philippines
18 Aug
@m_audrey6788
not to mention most winners are rumored to be their own STAFF!


• Philippines
17 Aug
that's why when i discovered the scratchit tickets, i buy them instead. they're also 20 pesos each. but i only buy when i remember. so how much did you win for the 3 matching numbers?

• Philippines
17 Aug
You know when they were just 10 pesos, I used to buy at least 500Php worth of tickets
@hereandthere
but instead I get half the price. What's more now if it's 20Php.

• Philippines
17 Aug

• Philippines
17 Aug
@hereandthere
That was a long time ago, I don't spent it on scratches anymore.

•
17 Aug
If everyone won all the time, they wouldn't make that much money would they...

• Philippines
17 Aug
Well, the jackpot would be extremely low if every one wins
@YrNemo

•
18 Aug
@Letranknight2015

(Not worth it then... I would rather save the money.)

• Philippines
18 Aug
@YrNemo
Well, I'm saving my money here for the moment.

• Philippines
29 Aug
I plan to play lottery too but I feel it will be hard to win there so it's better to just save the money instead or buy something else

• Philippines
29 Aug
Nothing wrong with betting, just don't spent too much money
@averygirl72
I just bet one number per day.

• Philippines
29 Aug

• Philippines
19 Aug
i had the 'balik taya', so my ticket won for another ticket.

• Philippines
20 Aug
That one win was just balik taya

@ridingbet

• India
17 Aug
I had a neighbor and she was always buying one and I got into the habit of buying one too. Then one day one of my friends told me, hey ..how are you going to claim it...and what is your guarantee somebody will not kill you for it..buy only for small bets, if you want. Made sense..stopped. lol

• Philippines
17 Aug
Hello
@vandana7
of course some body will them for it specially if they know your name. My bets are always lower..

• Waikoloa, Hawaii
17 Aug
im a bettor too in lottery hope both of us win in gods perfect time


• Philippines
17 Aug
I'm not stopping though
@kepweng
I still have bet to this day. I'm not betting one or more.