Diet is Just Die With a T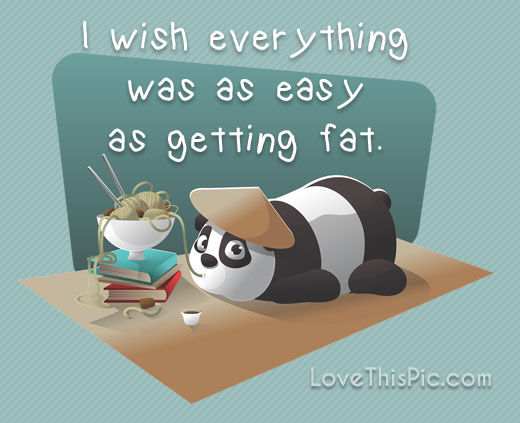 United States
August 18, 2017 10:03am CST
When I saw this image on lovethis pic it fit my mood so close that I just knew I had to use it. It is so very easy to add weight to your body and oh so hard to make it go away. I have4 tried eating right but it seems that those ugly little extra pounds like where they are living. I have even tried what some people claim are fat burning foods. Unfortunately I can only walk a short distance and I have no access to a pool so I am out of luck when it comes to the easy on your body exercises. What is a girl to do? I am going to keep trying. Afterall, this is just a momentary set back having this extra weight. I will conquer it.
10 responses

• United States
18 Aug 17
Yes keep trying Susan! Some exercise is better than naught. That certainly is a cute image.


• Green Bay, Wisconsin
18 Aug 17
Look up the diet I'm on. It's Whole30. You're not buying anyone else's food, or paying for a diet plan. You're only eliminating foods from your diet for 30 days. There's a handy grocery list for you to print up and take with you to the grocery store.

• Green Bay, Wisconsin
18 Aug 17
@HazySue
It's the easiest diet I know. Just get rid of everything on your do not eat list or you will be tempted to eat it. I gave everything away I had in the pantry and fridge so I have no temptations.


• India
18 Aug 17
I liked the image.You have the right attitude.You will succeed in conquering that extra weight.


• India
20 Aug 17
@HazySue
We will feel lighter and we can walk with a spring in our steps.


• Philippines
18 Aug 17
My body is the opposite. It's too easy to lose weight but too difficult to gain weight. So I usually eat double than I normally would so I won't lose weight at all.

• Philippines
20 Aug 17
@HazySue
It's the same with me. I think the dilemma is similar to one who wants to lose weight.

• United States
18 Aug 17
The food part works differently for everyone. As does walking and what not. You have to find what works for you.

• United States
18 Aug 17
do the best you can do.Do not torture your self.

• United States
19 Aug 17
Yes you will. Never give up.

• United States
18 Aug 17
I'm always battling a few extra pounds and the older I get the harder it is to lose them. I can't walk long distances either because of my knees so my exercise is limited. Hope you conquer your battle and kick those extra pounds to the curb

• Jacksonville, Florida
18 Aug 17
I wish you the best of luck with getting the extra weight off. I know it's hard dieting and losing weight.

• Italy
18 Aug 17
It depends on how much extra fat you have. Women are supposed to have fat (more than men do), and the minimum amount increases with age. The body doesn't really want to get rid of that soft warm tissue.

Low/no carb seems effective, but I haven't really tried it myself. Choosing wild/organic local food is important, because you can have all the fruits and veggies you want, but most of the time they lack of the proper nutrients (especially when genetically modified), they're full of empty calories and you end up being hungrier.