My Musical Family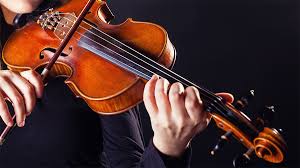 Virginia Beach, Virginia
August 20, 2017 6:26pm CST
Music seems to be in my family's blood. Almost every member can play an instrument. My parent played assorted stringed ones like guitar, banjo, mandolin, etc. Both my sisters are pretty fair pianists and my two brothers play guitar. Mama wanted me to learn something different, so they gave me a violin. Unfortunately, nobody else played one so I had no real teacher. When I grew up I just didn't have time to practice so I laid it down for years. After I retired I finally started to "fiddle" with it again. Just as I was beginning to enjoy my sweet music I was forced to stop again this time. Becky got tired of bailing me out every time our neighbors called the police and had me arrested torturing cats in my house.
7 responses

• United States
21 Aug 17
I remember my Grandpa playing the fiddle, my Dad the guitar and my Uncle the banjo. Although I know my Father played the banjo and violin as well. There was a 45 record somewhere titled Fiddlin Neil! My brother started with the piano and so did my sister
@corallevang
and I, but my brother went on to learn strings; guitar, and ukulele. My Mother was a singer, and I know she played the clarinet. All of us 5 kids have singing voices that wouldn't shatter glass either. Only Coral and my brother pursued their musical gifts.

• Anniston, Alabama
21 Aug 17

Did your family really play all those?

• Virginia Beach, Virginia
21 Aug 17

• United States
21 Aug 17
I play the violin and had to stop for the same reason. Even I can't stand the sound of my playing.

• United States
21 Aug 17


Hey diddle diddle, the cat and the fiddle . . . Uncle Joe made 'em jump over the moon

!

• United States
21 Aug 17

Joe. I love the old fiddle.

• Philippines
20 Aug 17
This made my morning! Thank you! I guess if you need to get a sound proof room if you want to keep playing that. It's never too late to learn. I'd love to take up violin lessons but 1. I don't have enough money to buy a decent one. and 2. there aren't very many violin teachers where I live. So I'll probably end up torturing people and animals with my music as well.